In my March 8th blog I wrote about the "Cost of Luxury Kitchen Design" and in particular some of the big cost drivers. In that blog I addressed mostly the construction tasks that affect a kitchen remodel price. In this blog I will address how the selection of certain upgrade or luxury products will impact your project.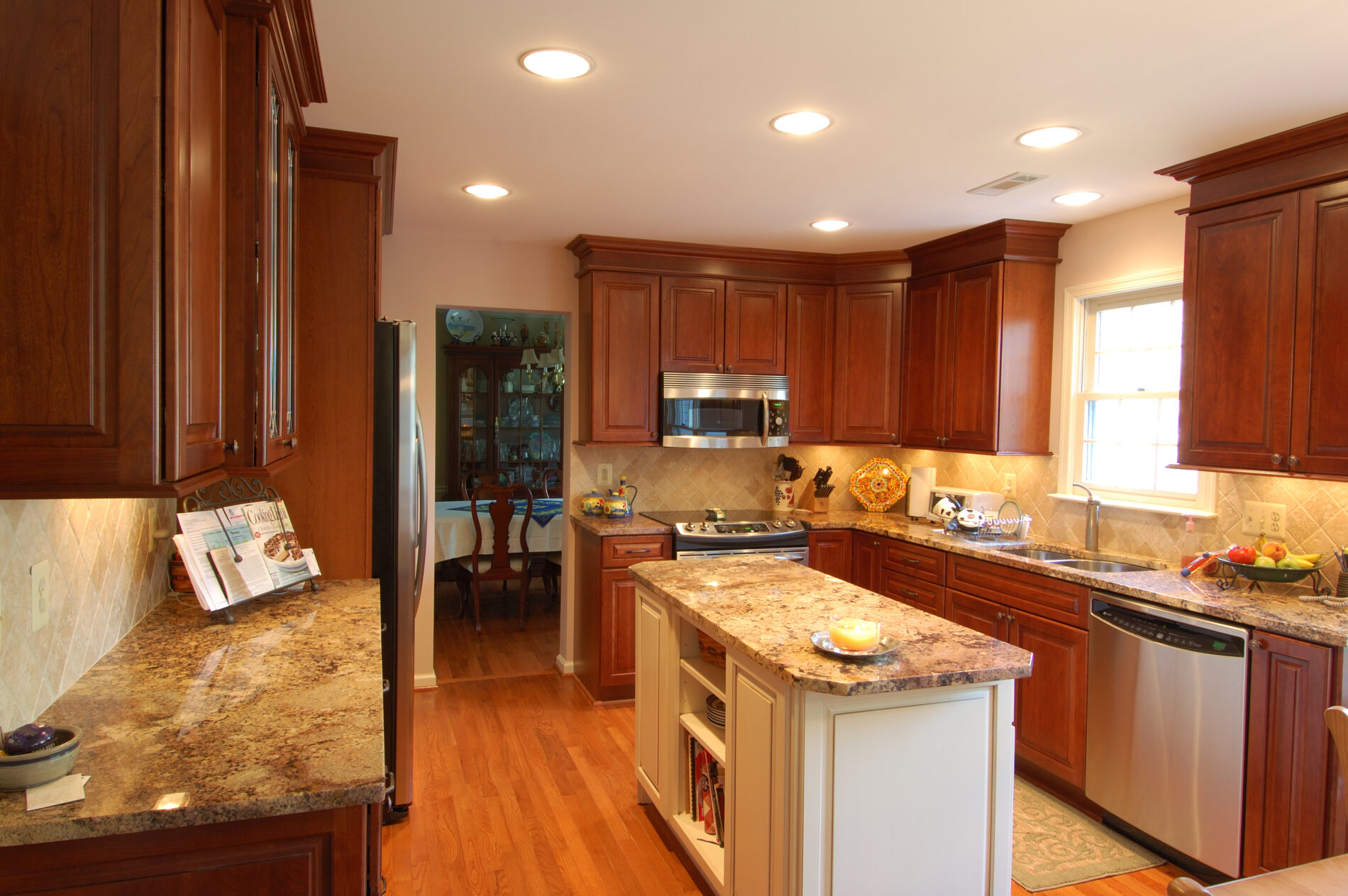 Cabinet Configuration:
Having a cabinet configuration that is unique and beautiful often increases the time needed to complete the installation. Multi-piece crown molding, light rails, end panels and large islands create a great look but increase the kitchen remodel cost. Simpler design helps to contain cost.
Cabinet Construction:
Cabinet material construction can be a fairly big driver of a kitchen remodel price. For example: Low cost cabinets use thin particle board sides, medium cost cabinets use furniture board sides, above medium cost you will find 3/8″ to 1/2″ plywood sides and at the top you would find 3/4″ plywood sides.
The cabinet back will also drive cabinet cost. Thin backs with maybe a 1/2″ thick wood rail at the back top of the cabinet will be more cost effective than the cabinet that has a 1/2″ thick plywood back with top wood rail.
Cabinet doors made from solid wood – like Cherry, Maple, Birch, or Oak will be more expensive than doors that are wood veneer on some other wood core, or a medium density fiber door. NOTE: there are advantages and disadvantages to each of these door construction techniques that I will hold off discussing here.
Inset cabinet doors are used in many Luxury kitchens. They look terrific but are very time consuming to install when walls are out of plumb and out of square – like most houses. So this type cabinet construction looks great – but they can be time consuming (AKA expensive) to install.
Drawer construction can also have a big effect on cabinet cost. Inexpensive drawers are butt nailed or stapled together. Drawers that are constructed using dovetail technique are stronger and a little more expensive. Some manufacturers even have metal drawers.
Drawer hardware can make a huge difference on how long the drawers will function well. Inexpensive cabinets will have hardware that make the drawers feel "loose" – sometimes allowing the drawer to come off the track. The standard for good to excellent quality cabinets has recently become so-called "full-extension soft-close drawer hardware". This hardware allows the drawer to completely extend out of the
cabinet and when aggressively closed, the hardware slows the drawer and pulls it back into the cabinet carefully without allowing the drawer to slam into the cabinet box.
Granite, Quartz* and Concrete countertops:
Granite and Quartz (some people call these tops "Engineered Stone") are pretty much the standard countertop materials in our area. However they can cost Four to Ten times as much as laminate
counters.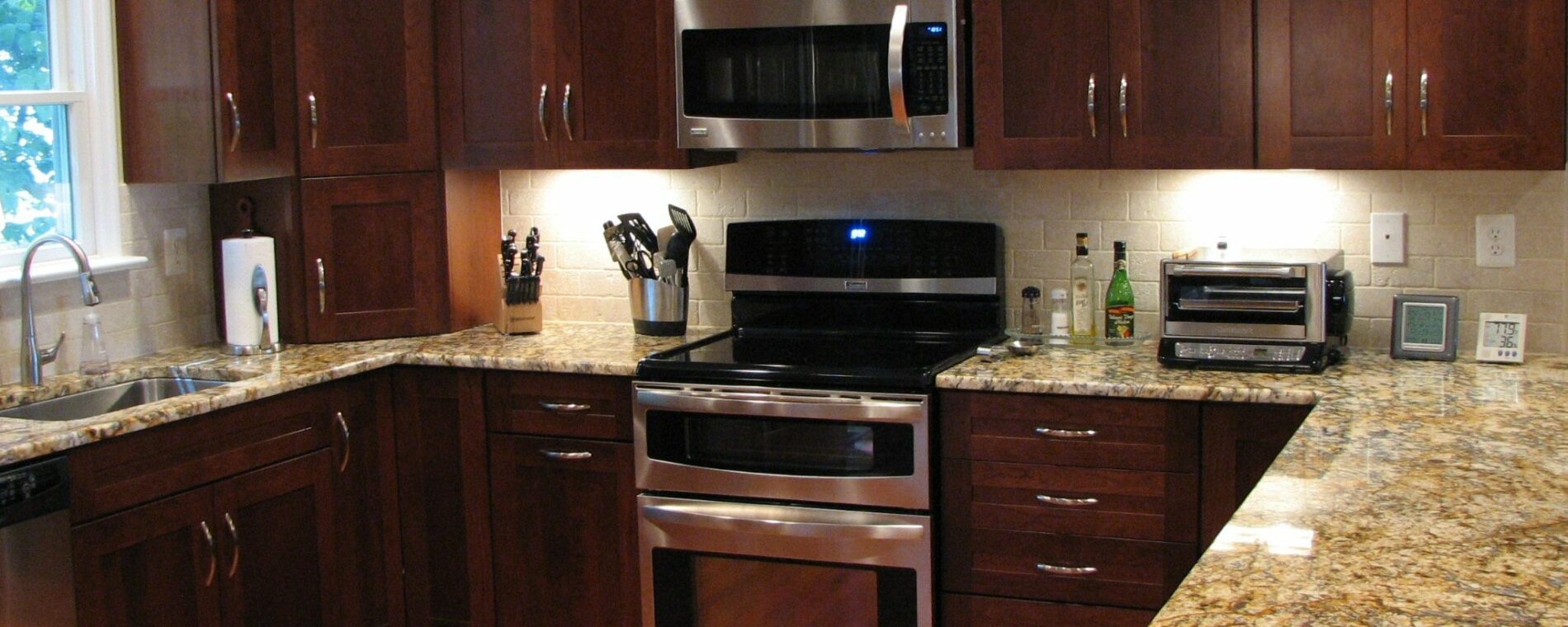 Polished concrete countertops have been popular for a while. However the installation is specialized (code word for expensive). These are more expensive than medium/high granite.
Recycled glass ground into small pieces and blended into engineered quartz countertops is an interesting and nice look. These tops tend to be more expensive than standard engineered quartz tops. They do perform pretty much the same as engineered quartz. Like granite, quartz and concrete countertops, this option with recycled glass will increase your kitchen remodel price.
*Quartz countertops (trade names: Silestone, Cambria, Zodiaq & others) are ground up bits of quartz mixed with pigments and resins to make the stone-like countertop slabs.
Tile or Stone backsplashes:
Very popular – adds color and texture and can really make the kitchen pop. Can add as little as $1,500 to many thousands of dollars to the project cost. Material cost is generally more than floor tile. However the big driver is labor. Tile backsplashes take time to layout correctly and most have some sort of design or accent element that increase installation time.
Another option that has a nice look is a full-height granite backsplash that matches your countertop granite. Again – this is far more expensive than the everyday 4″ laminate backsplash.
Wood or tile floors:
These products have almost become the standard for our clients. Wood can be three to five times the cost of vinyl. Tile can be ten times the cost of vinyl. See my Blog on "Kitchen Flooring Options" for more information.
Appliances:
The easy example here is that one can purchase a kitchen appliance package for $4,000-$5,000 or way north of $50,000. Or almost any price in between. Most of these products have a pretty broad range. Bottom line here: Appliances can make or break the kitchen budget pretty easily. However if you entertain a lot or love to cook – high performance and high quality appliances will make cooking more enjoyable. We see a lot of folks select kitchen appliance packages in the $7,000-$12,000 range.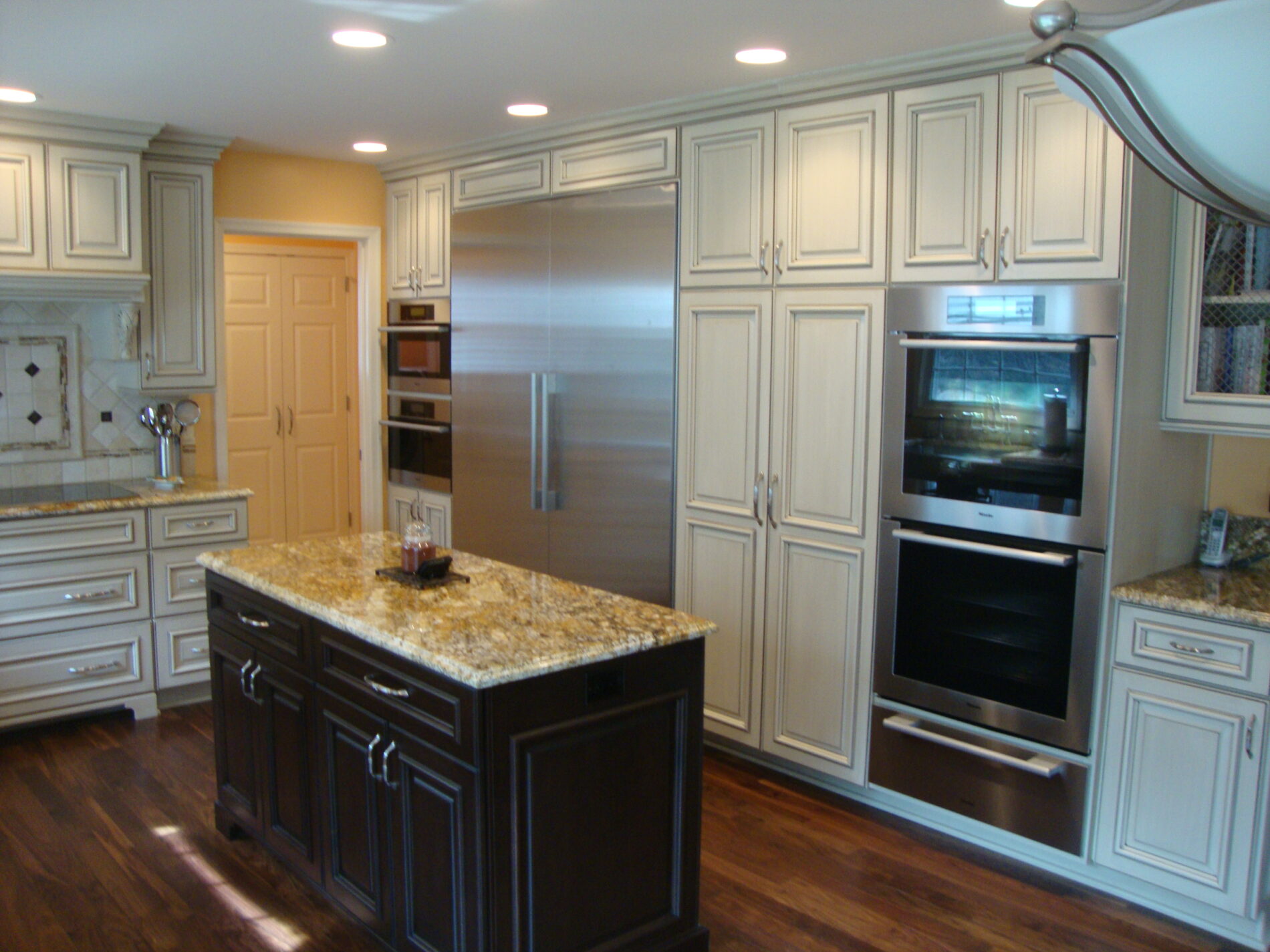 I hope this helps you understand what effect products can have on your kitchen remodel price. Please feel free to comment or ask questions through the links below.