Renovating your bathroom can be a great way to improve the look and feel of your home. But how much does a bathroom remodel cost in Northern Virginia? Read on for some tips on how to budget for your project.
Cost to Remodel an Existing Bathroom
The Remodeling 2023 Cost vs. Value Report lists the cost of a mid-range 5′ x 7′ bathroom in the DC Metro area/Northern Virginia to be $26,665. In our opinion, this figure is low. A review of the specifications used to determine this cost reveals that the most basic and economical materials were used, such as 4″ x 4″ white tiles and cultured marble sink tops. However, most people in our area who contact us for a bathroom remodel do not want such basic finishes. They want something more middle to upper grade.
Factors that Affect Bathroom Remodel Costs
To build a budget for a bathroom remodeling project in our region, you must understand the components that make up a bathroom renovation. Consider the following factors that will affect your bathroom remodeling costs.
Complete Demolition
When it comes to bathroom renovations, removing all the drywall, fixtures, and tile will often result in a better-finished product. If mold or mildew is present on the drywall, then it is definitely worth removing all of the drywall. This extra demolition and subsequent re-drywalling of the bathroom increases the project cost and duration. However, this allows for a much better-finished product. Difficulty vs easy demolition is always a cost driver, and tile installed on a mortar and lath base is very difficult and time consuming to demo. Vinyl floor on 1/4″ on Lauan underlayment, on the other hand, is very easy and quick.
Better Quality Tub/Shower
Standard steel bathtubs are available today and are still used by many. But many owners want to upgrade to the next level of tub or shower. The next level is a steel tub with a porcelain finish and a proprietary 1/4″ polymer on the backside, providing better insulation and a quieter, sturdier tub. This upgrade offers a significantly better product than the standard steel tub but is about twice the cost.
Upper-Medium Grade Plumbing Fixtures
Plumbing fixtures today come in many different finishes and styles. Most of the owners we talk to want one of the new finishes, such as brushed nickel, oil-rubbed bronze, polished nickel, stainless steel, or brushed chrome. One of these finishes, combined with the desire to upgrade the style and quality of faucets, can add several hundred dollars or more to your bathroom remodel cost.
Improved Bathroom Ventilation
In most bathrooms, replacing an old, noisy, or inefficient bathroom fan is a given. And adding an exhaust fan to bathrooms without one is always a must-have. The new bathroom exhaust fans are powerful and quiet, but unfortunately, they are also several times more expensive than the old ones we remove. Additionally, a code requirement typically involves changing a bathroom fan's method of venting out of the house. Many homes built in Northern Virginia have bath fans vented into the attic, but today's building code no longer allows this. Bathrooms must vent directly to the exterior if vented with an exhaust fan. This means a minor roofing or siding work for your bathroom remodel, which means more cost.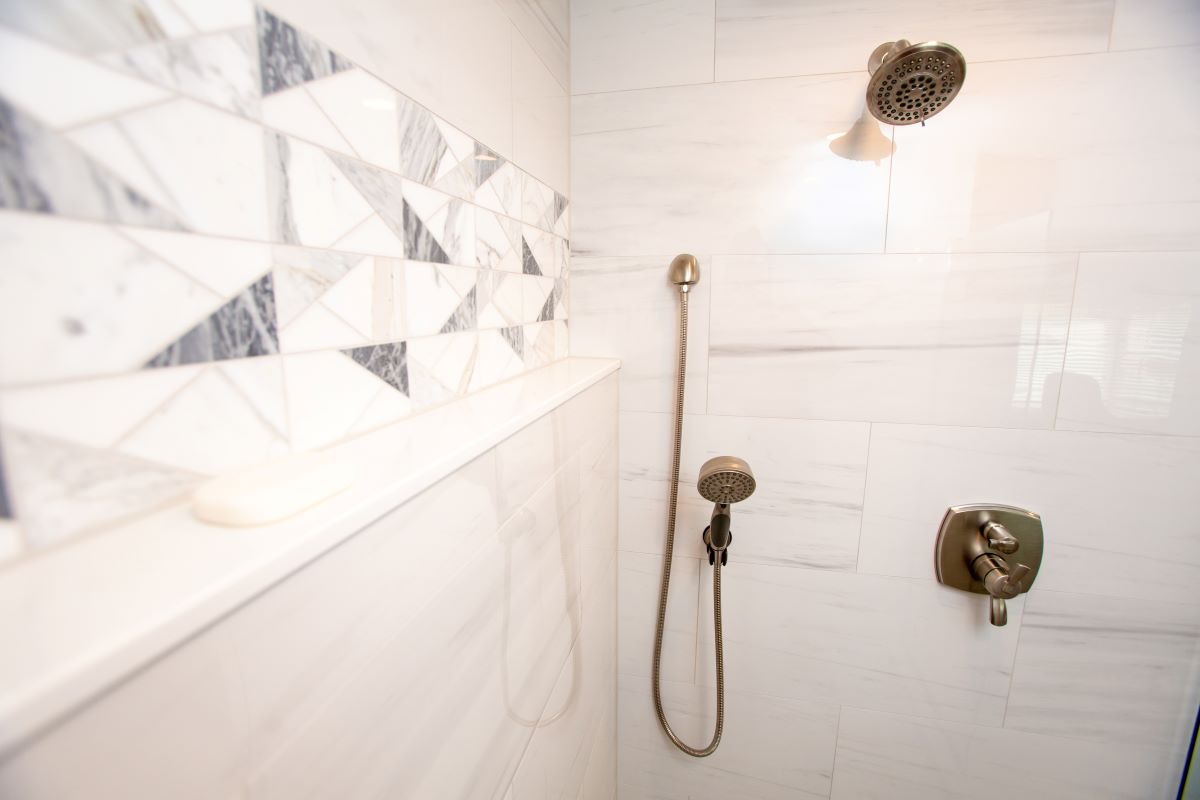 Upgraded or Current Design Tile
Gone are the days of 4″ x 4″ off-white tiles—even in the kids' hall bathrooms. Most remodeled hall bathrooms now feature larger tiles, corner soap dishes, and maybe even a recessed shampoo box/niche or a shower locker. Many bathrooms have some accent tile or pattern. These seem to be standard desires in our area, which help drive the price above the mid-range bathroom remodel. However, simple subway tiles are being selected for these bathrooms and are very cost-effective. Subway tiles are usually 3″x 6″ tiles; however, a nice upgrade is a simple 6″x 12″ or 4″x 12″ in a brick pattern. This won't be a budget buster and will be different from many other bathrooms.
Upgraded Cabinetry, Including Cabinets with Drawers
Lack of storage: We often hear this problem when speaking with people about their bathrooms. Sometimes nothing practical can be done. However, we often upgrade the cabinetry to include new aesthetics and drawers to ease the storage stress.
Upgraded Countertops
Cultured marble is the older standard countertop (with an integrated sink), and we rarely see it anymore. Most prefer natural stone, like granite, or engineered stone (Cambria, Silestone, etc.) with an under-mount sink. To save money, remember that many granite shops sell remnant pieces which are moderately priced for such purposes but still several times the cost of cultured marble.
Improved Bathroom Lighting
For most people in Arlington, Fairfax and Loudoun Counties (the areas we serve), having current-style lighting coordinated to the finish of the bathroom hardware and faucets is a must. However, the more complicated and labor-intensive the design, the more expensive it will be. LED disc lights (many are wet-location approved) are an excellent option for lighting above a shower or tub or just to replace an outdated ceiling fixture. Plus, they are cost effective.
Adding a Dedicated Electric Circuit
Many homes in our area were built in the 70's, 80's, or 90's, and the bathroom GFI outlet is tied into all the other GFI outlets inside and outside the house. This makes it impossible to run two hairdryers without tripping the GFI. Putting the remodeled bathroom outlet on a dedicated GFI circuit eliminates the hassle of resetting the circuit due to someone using a hair dryer in another bathroom. However, this electrical work will add more than you think to the bathroom remodel cost because there is usually additional materials and labor, such as extra drywall and painting so that a circuit can be brought from the electric panel to the bathroom.
Upgraded Mirrors and Medicine Cabinets
Stylish, framed mirrors are the desired choice when replacing flat, unframed mirrors. Medicine cabinets with mirrored door backs and interiors are common replacements for old rusty cabinets. Additionally, we see a lot of interest in medicine cabinets that have LED lighting strips built into the mirror, such as the Kohler Verdera.
High-quality Paint
While wall and ceiling paint is not a huge cost driver, high-quality paint can be two to four times the cost of standard-grade paint. High-quality paint offers advantages, however. Higher quality paint is more durable and less porous, which means it will clean more easily, and mold/mildew will find it more difficult to grow.
Improved Bathroom Accessories
Bath accessories, such as towel bars, coordinated with faucets and light fixtures always complete the bathroom look. It's possible to still find $10 towel bars, but if you want a finish and style that matches your faucets and light fixtures, expect to pay four to ten times more than the cost of a basic towel bar. Some offer very nice features, such as a double towel bar or even electric heaters to warm your towel. And if you want to
Bathroom Remodeling: How Much Does it Cost?
Depending on your choice of upper or high-end finishes, tiles, and fixtures, the average cost of smaller bathrooms in our area (5′ x 7′ bathrooms) typically falls into the low $40K range. Many of our clients with slightly larger bathrooms invest $45,000–$55,000.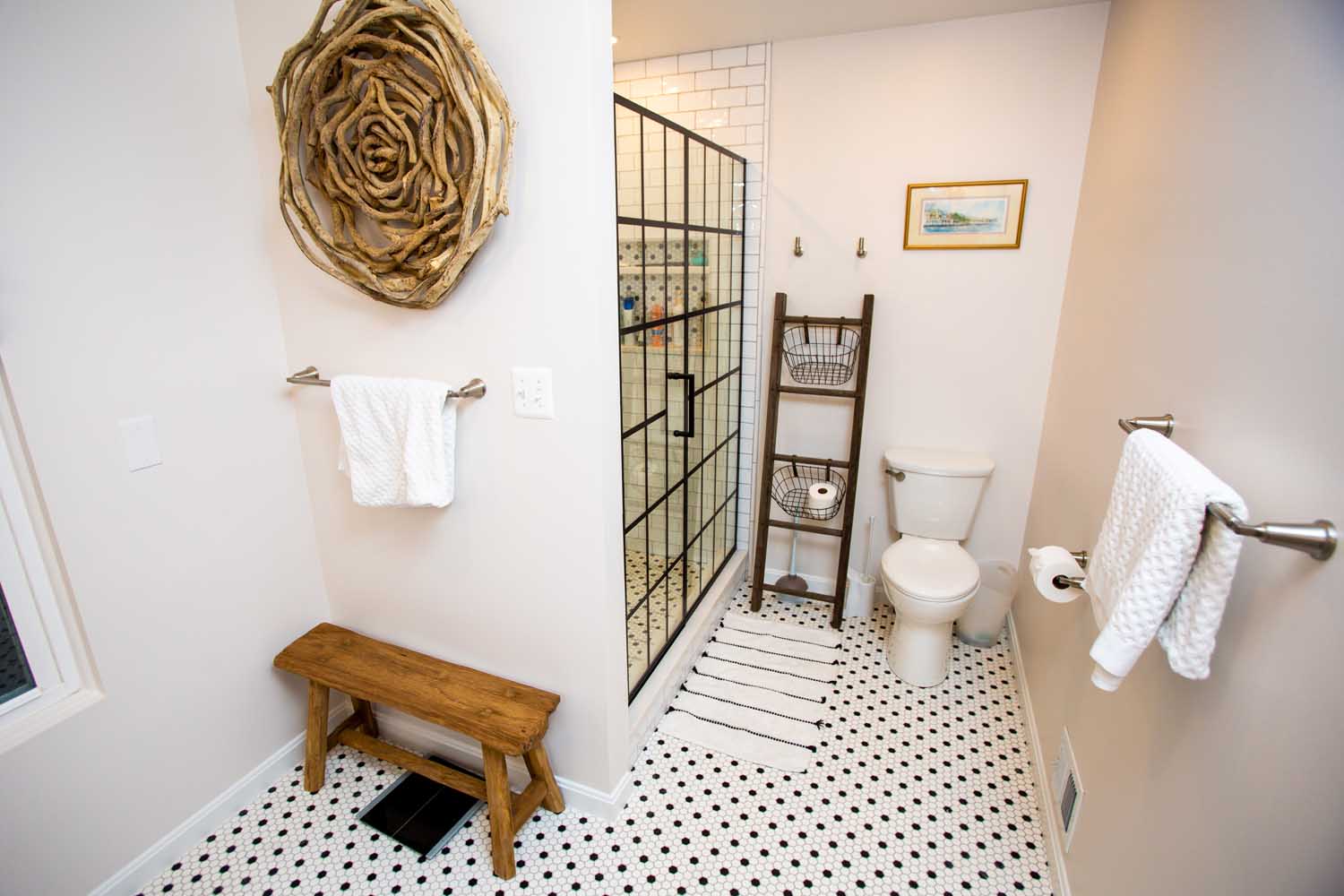 Master Bathroom Remodel Costs in Northern Virginia
Like general bathrooms, the cost of remodeling the master bathroom is determined by several important factors.
Size of your bathroom
The difficulty of demolition
Reconfiguration of your space
The number of fixtures
Fit, finish and function of plumbing fixtures
Tile choice
Structural design changes (which can involve several trade contractors)
Remodeling's 2023 Cost vs. Value Report is based on expanding a 35-square-foot bathroom to 100 square feet (10'x10′) using these products/features. Their reported job cost for 2023 is $81,218. This appears consistent with the ranges we see for this size bathroom.
Complete remodel of a 5′ x 8′ master bathroom:
Standard: $45,000–$55,000
Upscale: $55,000–$65,000
Complete remodel of a 5′ x 8′ master bathroom that requires taking down a wall to create a bigger bathroom around 10′ or 12′ x 8′:
Standard: $75,000–$85,000
Upscale: $90,000–$105,000
Include Reworking of Master Closet: add $5,000–$10,000
Complete remodel of a large master bathroom (12′ x 12′ or larger):
Standard: $95,000–$115,000
Upscale: $125,000+
In recent years we have seen a lot of nice master bathrooms larger than 175 square feet in the $140,000–$160,000 range.
Remember that the word "standard" used above is defined by what many of our clients and your neighbors in Northern Virginia consider necessary or expected. There are certainly other products that are more cost-effective. Also, the price ranges mentioned above are entirely designed, permitted, managed, full-service projects where the owner does not do any physical work. So, the implied here is that a homeowner can reduce their cost by doing some of the work themselves—maybe demolition or painting. We hope this gives you a realistic picture of how much it costs to remodel an outdated bathroom into a nice, new bathroom in the Northern Virginia area.
In summary, there are three things that you, as the homeowner, can control to maintain your bathroom project budget:
1) Your level of involvement—can you do some of the work?
2) The project's scope—do you have to do everything on your wish list?
3) The products selected—do you need the bathtub with the built-in TV and surround sound speakers, or will a nice soaker do the job
Ready to start a bathroom remodeling project? Contact us today. We'd welcome the opportunity to hear more about the project you have in mind.