Taking the plunge on a remodeling project is exciting…but it can also be stressful. You probably have a lot of questions you want to be answered before you get started—which is why we put together this list of questions we get asked most frequently.
Don't see your question listed below? Give us a call at (703) 481-3325 and we'll be happy to answer it.
How much does a remodeling project cost?

We know cost is a big concern for most of our customers. And while exact costs vary depending on the specifics of the project, we are committed to being as transparent as possible. In the meantime, you can check out our free, downloadable guide for remodeling costs in Northern Virginia to get a better idea of average remodeling costs in the metro D.C. area.

How long does a remodeling project take?

The exact answer to this question depends on the specific nature of the work you'd like done, but we can promise you'll have a clear idea of the timeline before we get started.

We like to plan each project on a step-by-step basis with a set start date and completion date, so you'll know well in advance how long your specific project will take.

What does your overall process look like?

We're proud of the time-tested and customer-approved process we've developed and perfected over the last 30 years. Learn more about our home remodeling process.

What areas do you serve?

We're licensed in Virginia and generally serve the Northern Virginia areas, including Reston, Vienna, McLean, Herndon, Great Falls, Fairfax Station and Ashburn. However, if you're in a neighboring area not listed and have a remodeling project you'd like to discuss, don't hesitate to reach out to see if we can serve you.

I need to make my home more accessible, but don't know where to start. can you help?

Sure can. One of our most popular remodeling requests involves making homes aging-in-place friendly. Our owner is a Certified Aging in Place Specialist (CAPS) and can take you through a no-obligation consultation to discuss how your specific needs can align with your home. 

What type of home remodeling services do you do?

You can find a list of our most common home remodeling services, but we'd love to talk to you about your specific remodeling project—even if it doesn't quite fit into any of the categories listed.

Once the project gets started, is there someone I can go to with my questions?

Each Northwood Construction project is staffed with a full-time, English-speaking on-site project manager who will be there every day and oversees all aspects of the work. They'll be your main point of contact from the start of your project to the very last day. Communication is very important to our process, so you should feel comfortable asking questions in person, over the phone, via email or through our collaboration software, Co-construct.

Do you perform all phases of the work?

Yes, we do; however, we do bring in our specialty trade partners to perform specialized licensing services—like plumbing, electrical work, roofing, or heating and air conditioning. We have long-standing relationships with all of our subcontractors and consider them to be valuable members of the Northwood Construction team.

Who coordinates letting subcontractors into my home?

Your on-site project manager is responsible for letting subcontractors on to the project site, overseeing their work while they're there, and ensuring your home is locked up after they leave.

Who confirms that the subcontractors' work is performed correctly?

Your on-site project manager will make sure that all subcontractor work is completed correctly and aligns with the overall project goals.

Who cleans up after the workers or subcontractors?

We do our best to maintain the peace of your home and disturb it as little as possible. At the end of each workday, our team will make sure the work area is cleaned up and your project manager will make doubly-sure the area is clean.

How many projects do your project managers take on at one time?

Just one. Your project manager is guaranteed to be dedicated to only your project throughout the entire scope of work.

How much money do you need upfront?

We ask for a 5% down payment and then we'll develop a "milestone payment schedule" that corresponds with your particular project.

Does your company provide all the materials?

Who provides the building permits?

We know there are some contractors out there who want the homeowner to secure the permits, but you won't have to worry about that when you work with us. We're a Class A contractor, so we provide all the necessary building permits and ensure our subcontractors do the same.

Can you help us with our product selection?

Yes. We have a process that we follow to help our customers make the best selection for their tastes, functionality and budget.

What time does your crew start work each day?

We know each household we work on is unique, so we treat each project schedule individually. We'll adjust our schedule to fit the circumstances of your family's daily routine.

Do you offer a warranty?

Yes, we provide a two-year workmanship warranty.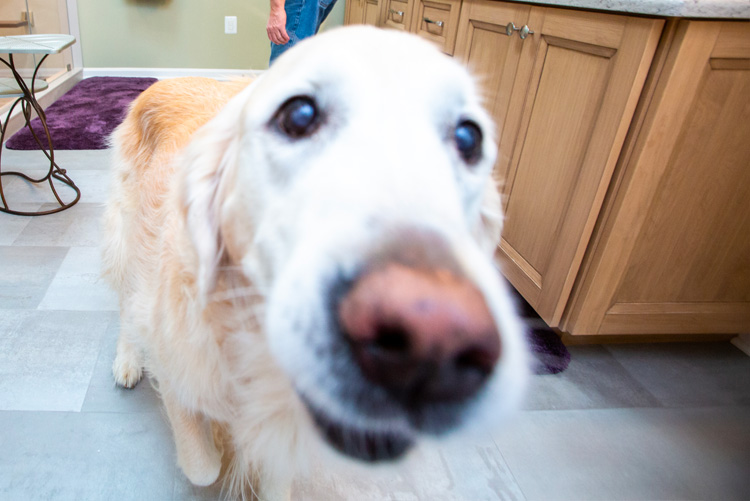 Are you nosing around the idea of a home remodel?
No matter how far along you are with exploring options, reach out to us. We are happy to hear what you are looking for and share with you a bit about us, too, to see if we are a good fit.