Beth Caston, the lighting manager of Ferguson Enterprises in Chantilly, helped us compose the following article.  It covers the popular topic of kitchen lighting options.  I hope you find it informative.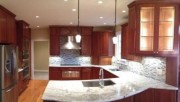 The kitchen is often thought of as the heart of the home. It's not only a space for cooking and preparing, it's where we spend time with family and entertain friends. Lighting your kitchen effectively is extremely important. Fortunately there are plenty of kitchen lighting options and Unfortunately there are plenty of kitchen lighting options (I know many of you reading this know what I mean). Bright task lighting is necessary for prepping dinner, but cozy soft lighting is important when the evening is winding down. Layering the light in your kitchen will help you achieve all the necessary light levels.
General Lighting
Most people want to walk into the kitchen and flip one switch to give a general light level. This is normally accomplished with recessed lighting or some sort of ceiling lighting. Recessed lighting generally disappears into the ceiling and provides light without any decorative element. Consumers have a wide variety of options and sizes from which to choose:
Size – 3", 4", 5" & 6" apertures are available. Smaller is becoming more popular – however we do find 5″ to be the most common for general kitchen lighting.
Type/style – standard downlight (the most common), adjustable or tilting bulb to highlight cabinets or art and pinhole to focus down with a small beamspread to illuminate a workspace.
Shape – Round (by far most common) or Square
Color – Interior of the recessed can be white to match your ceiling or brushed silver/stainless to match stainless steel appliances or contemporary kitchens.
Bulb – The size generally depicts the bulb, but some bulbs are more intense and focused while others will be more diffused. LED options are also becoming more popular as we focus on saving energy.
Task Lighting
Task lighting is most important for our everyday activities in the kitchen such as prepping a meal, chopping veggies, putting dishes away and cleaning countertops. We need a high level of light to achieve these tasks effectively and safely. Typically task lighting in a kitchen will come from undercabinet lighting. Undercabinet lighting highlights your countertops to a degree that recessed lighting cannot achieve. Like recessed lighting there are numerous options:
Style – Small boxes/strips sized to your cabinets, puck lighting (shape like hockey pucks), and linear (sometimes in rigid strips or clear rope or tape style).
Lamp Source – Fluorescent, Halogen, Xenon or LED
Color – Most will come in white, bronze or stainless steel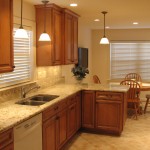 Decorative Lighting
It's important to make sure our kitchen is well lit, but it's also nice to make sure it looks stylish and updated too! Adding decorative pendants over an island or peninsula is a great way to add a pop of style to your kitchen. Choosing a matching chandelier over the table will further enhance the design. There are countless designs to choose from. Some of the more popular include drum shaped shades, clear or seeded glass, warm tones such as bronze and champagne gold and clean contemporary.
I hope this high level review of kitchen lighting was useful. If you have questions or would like to comment on the article please do so below.