Homes here in the Washington, D.C. suburbs are notorious for being tight on space, yet most homes have the lot size for an addition. If you're quickly outgrowing yours and thinking about a home addition, you've got several options. Let's look at the benefits of adding a four season room addition (also known as a four-season sunroom) and other ways to add space to your home.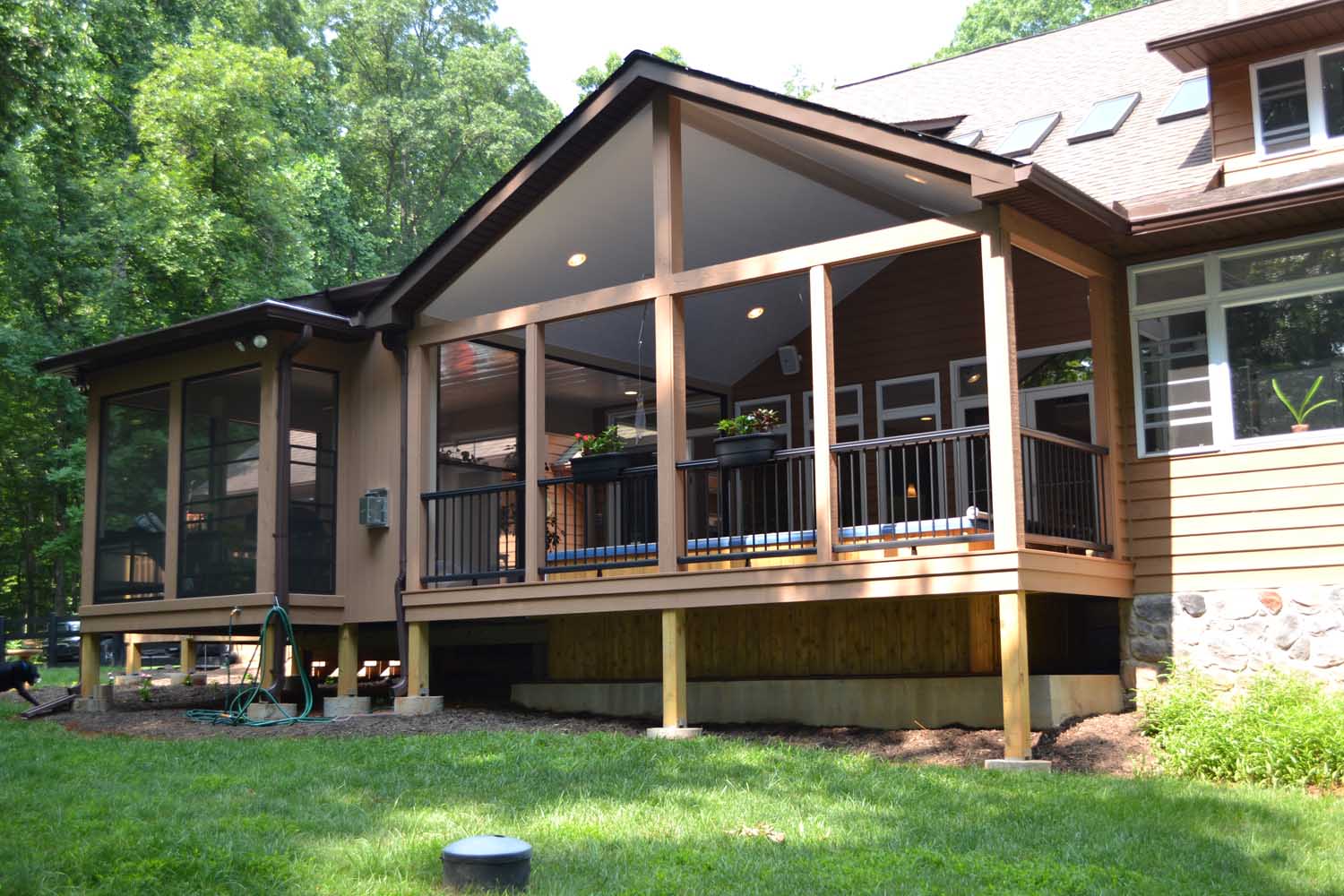 Alternatives to Four-Season Sunrooms 
If you're not keen on adding a four-season room but want to increase how you enjoy the outdoors, you have a few options.
Outdoor Deck or Patio
An outdoor living area is a popular choice in our post-pandemic world, as more people often choose to entertain at home. However, the downside to this type of addition is that it's outdoors, which means its use depends on the weather. Since Northern Virginia experiences hot, humid summers with lots of bugs, you may not be able to use your outdoor deck or patio as much as you'd envisioned, particularly in the summer months.  
Screened-in Porch
A screened-in porch is another alternative to building a four-season room. Unlike a patio or deck, this addition offers some protection from the sun and bugs—two of the most significant issues with enjoying the outdoors in our area. While the screens will keep out the bugs and the covered porch will protect you from the sun, you'll still have to deal with the heat and humidity; however, this can be resolved, at least a little bit, by adding a ceiling fan for the summer and ceiling heaters for the winter (these only temper the chill). However, perhaps the worst complaint we hear from homeowners who have screened-in porches is about yellow pollen that blows in, leaving a layer of allergy-inducing dust on everything inside. This mess is hard to clean, and it can impact your health. 
Conservatory
A conservatory is an elegant and upscale addition with a glass or polycarbonate roof. This type of addition can provide extra living space, like a dining room or entertainment area, with good protection from the weather outside. However, unlike a four-season room, a conservatory can be quite uncomfortable when the weather is really cold or really hot, and it doesn't offer the same level of protection from the elements.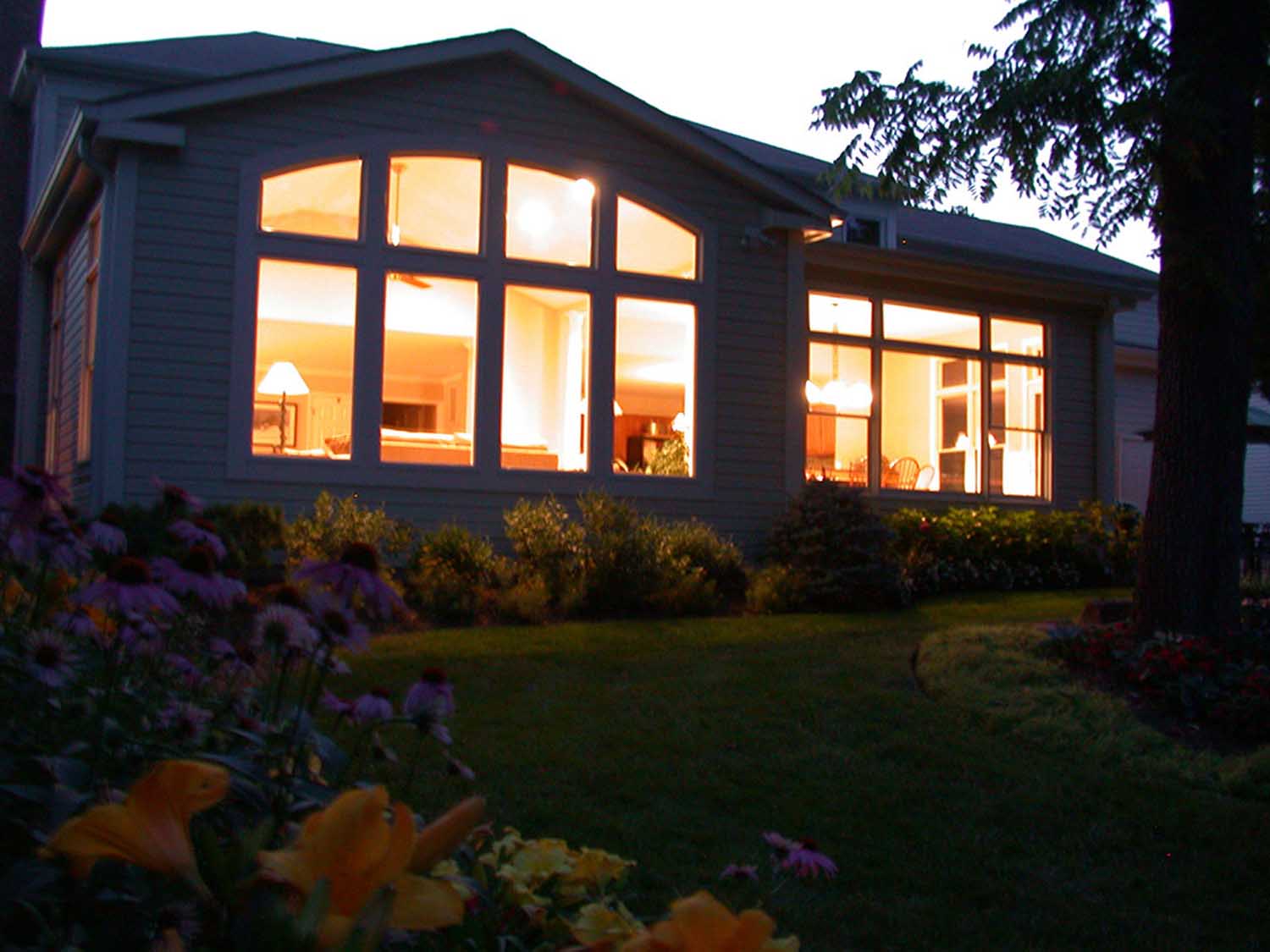 Benefits of a Four-Season Room Addition
A four-season room may be the best solution to your space problem. With this type of addition, you get the biggest bang for your buck, and you'll be able to enjoy it year-round. A four season room is typically designed to appear as if it was built with the original house using matching or blended exterior and interior materials. Some of the benefits of building a four-season room are listed below. 
Increased Property Value
A four-season room is a sought-after feature here in Northern Virginia, and when it's time to sell your home, potential buyers will be drawn to it. This room has many potential functions: morning room, sunroom, reading room, sunny home office, entertaining space, holiday overflow, daily dining room, family room, etc. By adding a four-season room, you'll undoubtedly increase the value of your home.
Enjoy the Outdoors All Year Long
Nature is beautiful — except for the humidity, bugs, and those scorching hot summer days. A four-season room makes it easy to immerse yourself in everything Mother Nature offers while remaining protected from the elements. Because of this, you can spend time enjoying the outdoors year-round, no matter whether it's rainy, snowy, or sweaty outside.
Increase Natural Light
Sunlight is an excellent source of Vitamin D, and many Americans are severely lacking, especially here in the mid-Atlantic region, where we have our share of gray days. But even gray days provide some natural light, which improves your health. Studies have shown that natural light decreases feelings of depression, improves sleep, and boosts your mood.  
Additionally, because sunroom additions allow more natural light to flow into your home, they can also be energy efficient. With lighting provided by the sun, your energy bill will decrease, and you can keep the winter blues at bay.
Climate Controlled Space
Your four-season room (or sunroom addition) gives you the perks of enjoying the beauty outside while remaining protected from the elements like bugs, heat, humidity, pollen, and precipitation. Best of all, your room can stay at your favorite temperature year-round by using a high-efficiency HVAC system that only serves this room. 
Extra Square Footage
A four-season room can add function to your home in several ways. Use the space as an added entertainment area, a home office, or a second dining room. Many homeowners also design their four-season rooms to be tranquil and comfortable – the spot they retreat to unwind from the day.
Privacy
A four-seasons room addition is also where you can practice self-care. It is the perfect spot to relax after a long, hectic day. Grab a book, a comfortable blanket, and your favorite playlist to sit back and rest.
If you're interested in exploring a four-season addition to your home, we are here to answer your questions. Our design team would love to collaborate with you.