Kitchens and bathrooms are the two most popular places to remodel in a home, and that's no surprise. An outdated kitchen not only stunts the value of your home, but also makes it dreary, disorganized, and inefficient. Let's look at some popular kitchen and bath design trends that we're seeing in homes across Northern Virginia this year.
Kitchen Design Trends
Bright, cheerful kitchens will always be en vogue, but popular color schemes and styles are always changing. Kitchens are one of the biggest selling points in homes today, and that's not changing anytime soon. Here are some kitchen updates that are trending right now.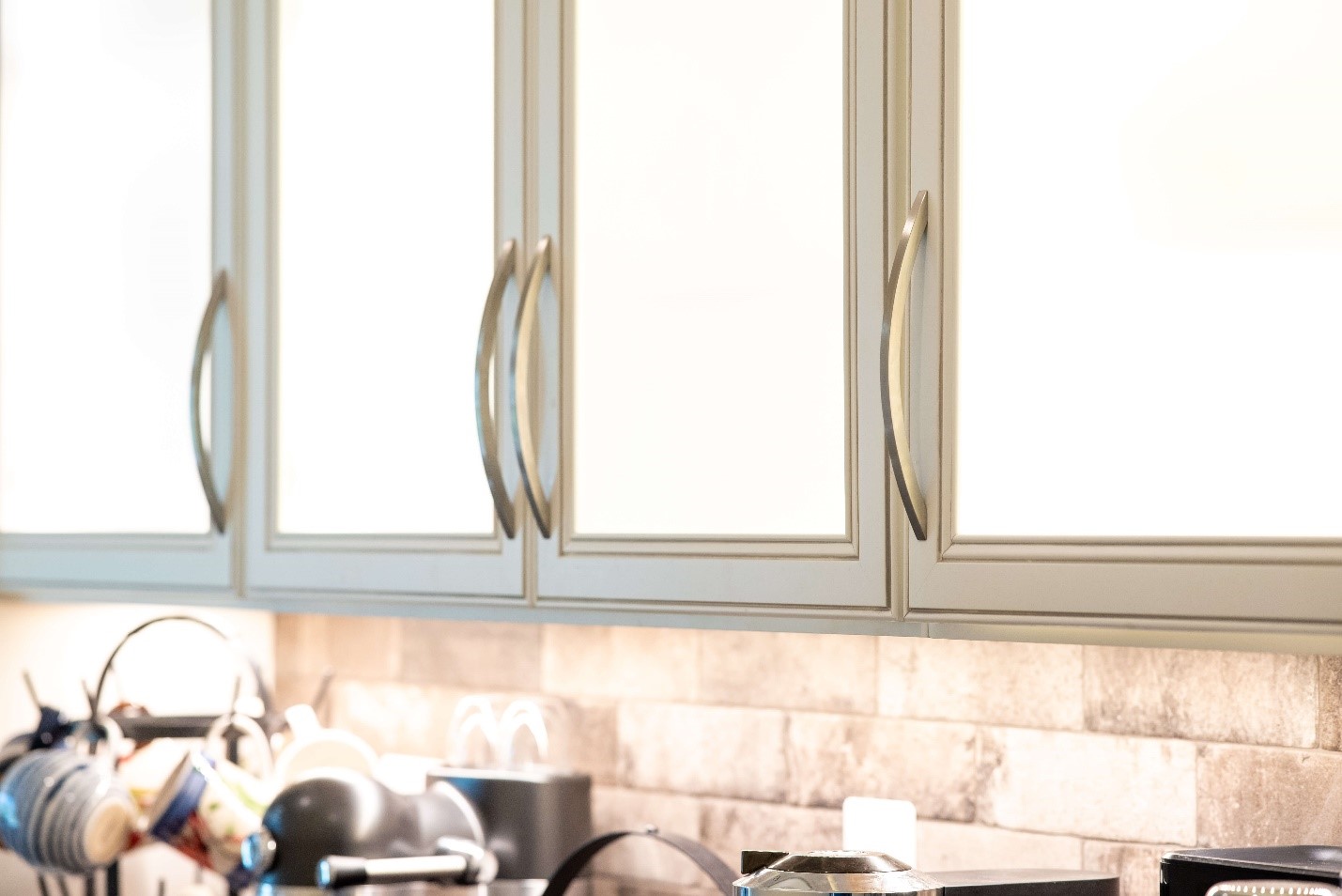 Kitchen Cabinetry
While white cabinets remain a popular choice in Northern Virginia, they are not nearly as in demand as in years past. Homeowners are now leaning towards earthy tones like mushroom, sandy beige and charcoal grays. Another trending color is green! Select dark-toned cabinets, such as deep blue or even black, if you want a dramatic look.
Light wood stains, such as ash and birch, are growing in popularity due to their natural and contemporary aesthetic. However, despite this trend, honey oak continues to be perceived as an outdated and overused material choice for cabinets. Its warm undertones and heavy grain pattern can create a dated look that may not align with the desired modern or minimalist design.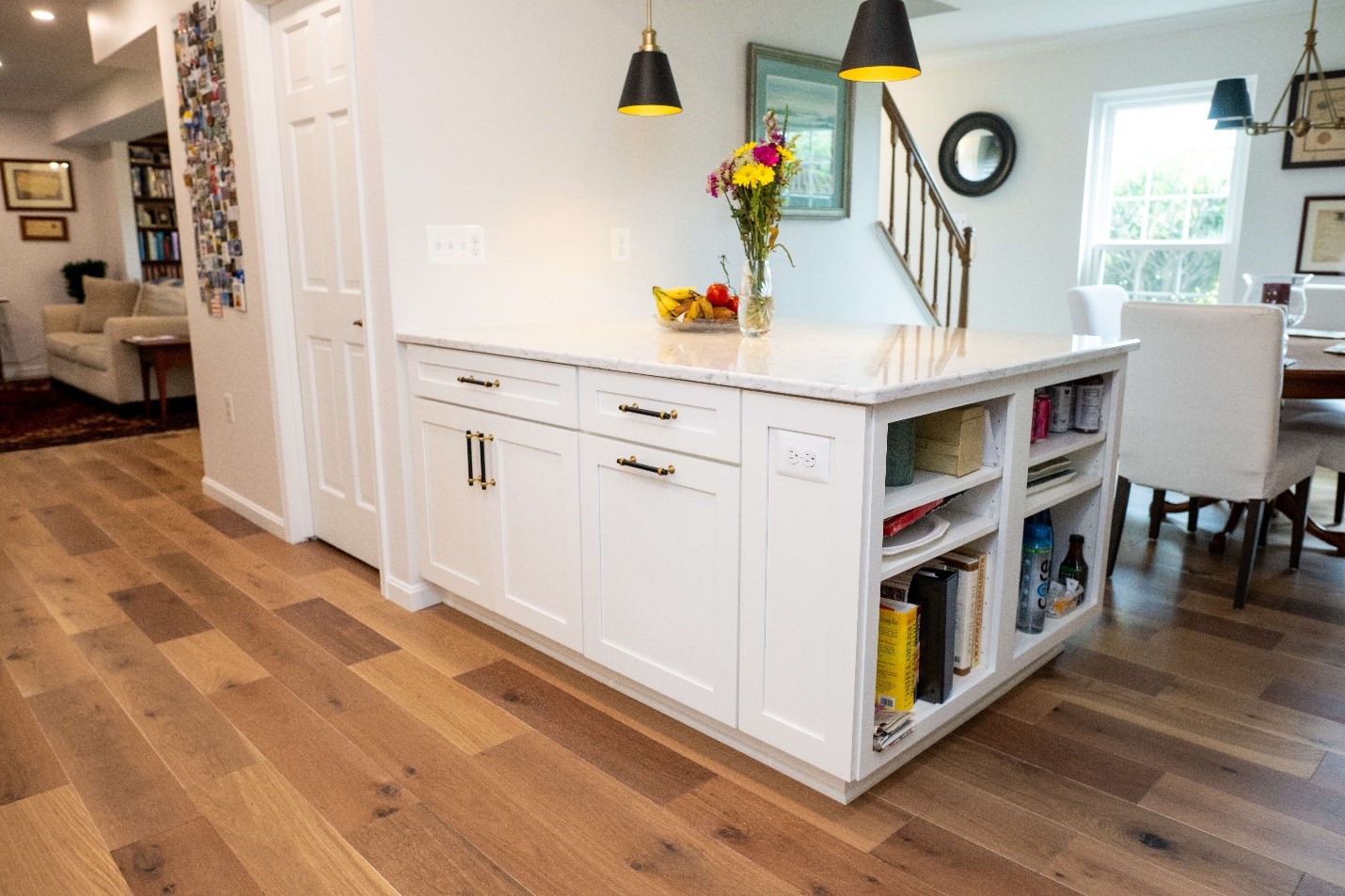 Kitchen Flooring
Many homeowners are opting for Luxury Vinyl Plank (LVP) and Luxury Vinyl Tile (LVT) flooring options. LVP and LVT are both made from vinyl, but they look like wood and tile, respectively. These options are especially popular because they're budget-friendly and easy to maintain.
That said, the most popular kitchen flooring option in Northern Virginia continues to be hardwood flooring, a classic feature that will always stay in style. However, hardwood flooring is more expensive and requires more maintenance than other options.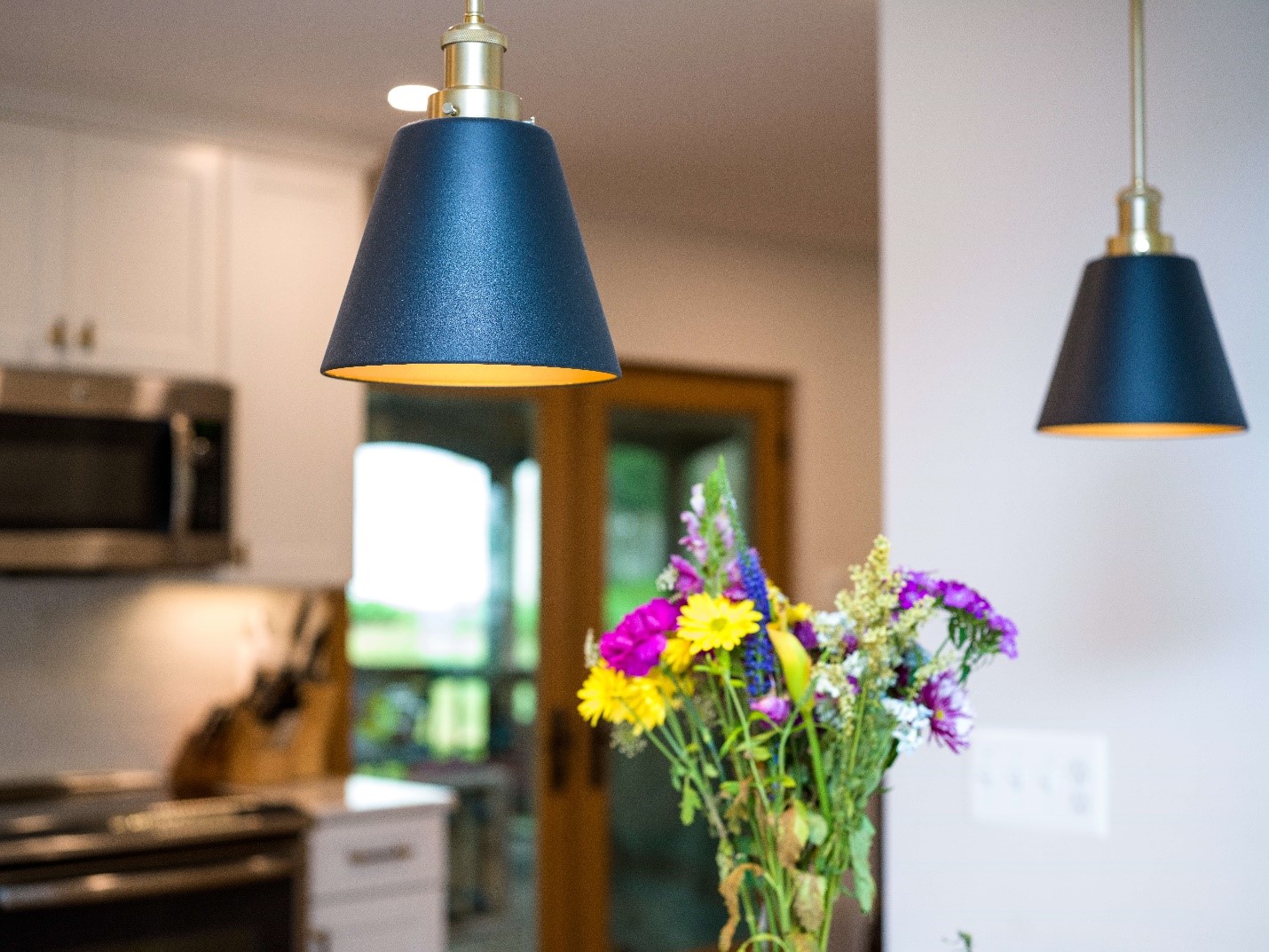 Kitchen Lighting
Kitchen lighting is much more than practical; it's a vital aspect of the overall design and atmosphere of the space. Strategically installed fixtures can illuminate work areas, accentuate architectural details, and even serve as a decorative element. Ambient lighting, provided by recessed or track lights, affords a general glow to the kitchen. Task lighting, often under-cabinet LEDs, ensures safe and efficient food preparation by focusing light on counters and stovetops. Accent lighting, like pendant lights over the island or breakfast bar, can impart style and personality. Dimmable lights are also gaining favor, offering homeowners the flexibility to adjust the brightness according to the time of day or their mood. Remember, a well-lit kitchen is both functional and inviting, making it a perfect place for cooking, dining, and socializing.
Sinks and Islands
In the realm of kitchen sinks and islands, versatile and multi-functional designs are trending. A large, single-basin sink is especially popular as it can accommodate large pots and pans, simplifying cleanup. As for kitchen islands, many homeowners are opting for a combination of preparation areas and casual dining spots. Kitchen islands with built-in appliances, like a wine fridge or in-home ice maker, are also on the rise. These islands are not just practical but also boost the kitchen's aesthetic appeal, transforming it into a modern and social hub of the home.
Other Kitchen Trends
Today, you can mix and match metals like brass, copper, and stainless steel in your hardware, lighting, and appliances. Mix cabinet knobs and handles to add character and charm but stick to one style for the top cabinets and another for the bottom.
Microwave drawers are a trending feature that's especially popular among people who are updating their kitchens to age-in-place, and induction cooking has become an alternative cooking option for homeowners of all ages.
Bathroom Design Trends
Today's homeowners are looking for ways to remodel their bathrooms to make them feel peaceful and zen-like. Let's look at some of the most popular ways to update your bathroom in Northern Virginia so you look forward to spending time in your updated space each day.
Spa-Like Features
Homeowners who renovate their bathrooms today are incorporating spa-like features and amenities like large freestanding soaking tubs and rainfall showerheads. These features offer a relaxing shower or bathing experience right in your own home. Luxurious add-ons like a heated floor make the room more comfortable, and soft lighting sets the mood so you can unwind after a long day.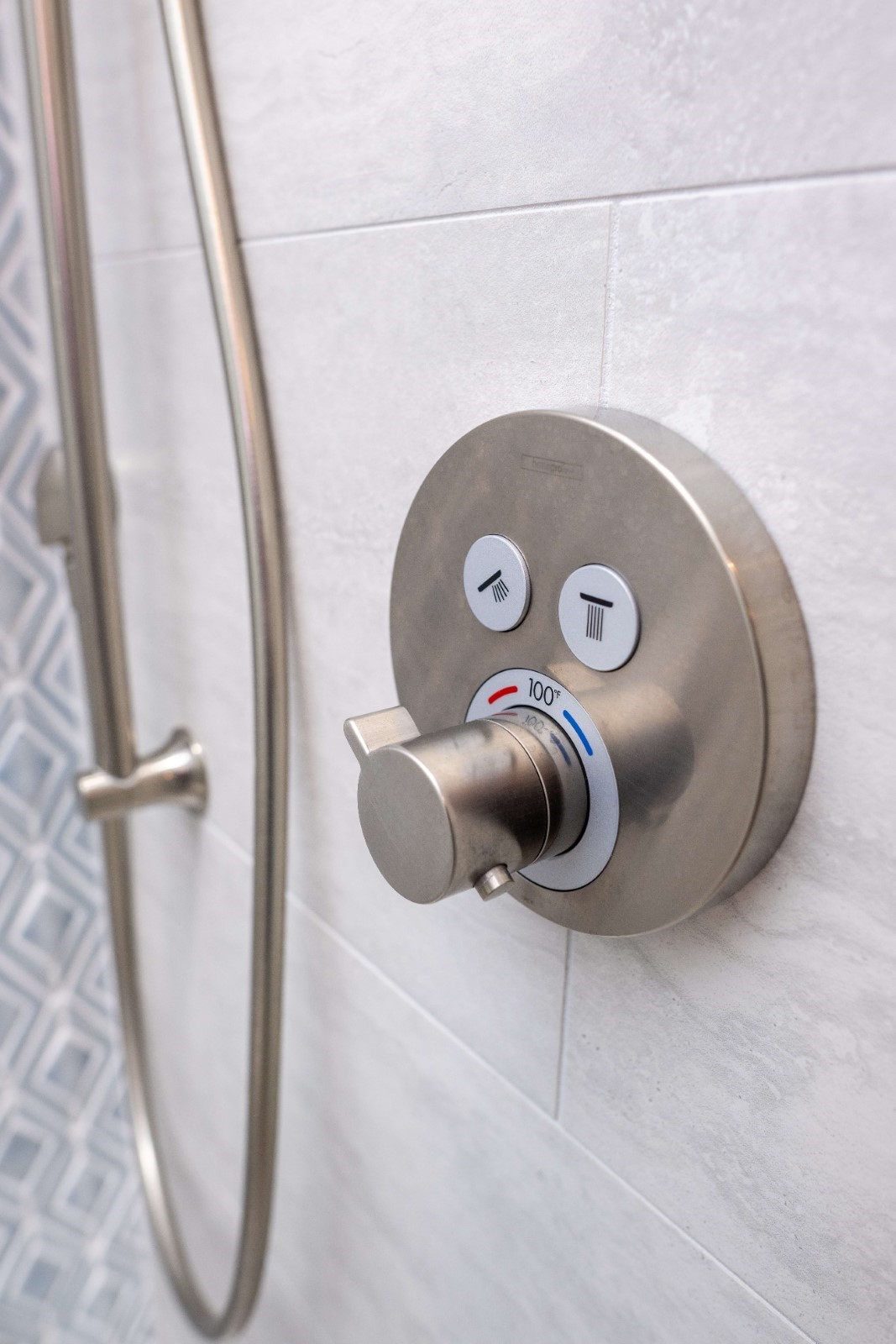 Digital Controls for the Shower
The latest technology allows you to control and save your preferred shower settings, so you can enjoy the perfect shower experience at the touch of a button. Best of all, this innovative technology can remember multiple shower settings, so you and your partner can create unique profiles to use anytime you like. Set your optimal temperature and water pressure options, save it to the device, and let the shower do the rest!
Vanities and Backlit Mirrors
Large vanities with plenty of storage are practical and stylish. A custom vanity is a lovely focal point where you can sit and get ready for the day. A thoughtfully placed mirror with backlights offers the perfect lighting for applying makeup and getting ready for the day, without the harsh bright light of an overhead pendant.
Large rectangular sinks are quickly replacing old, oval-shaped sinks, and they offer much more space for brushing your teeth and washing your face. When renovating your bathroom, consider swapping your small, oval sink, for a fresh rectangular one.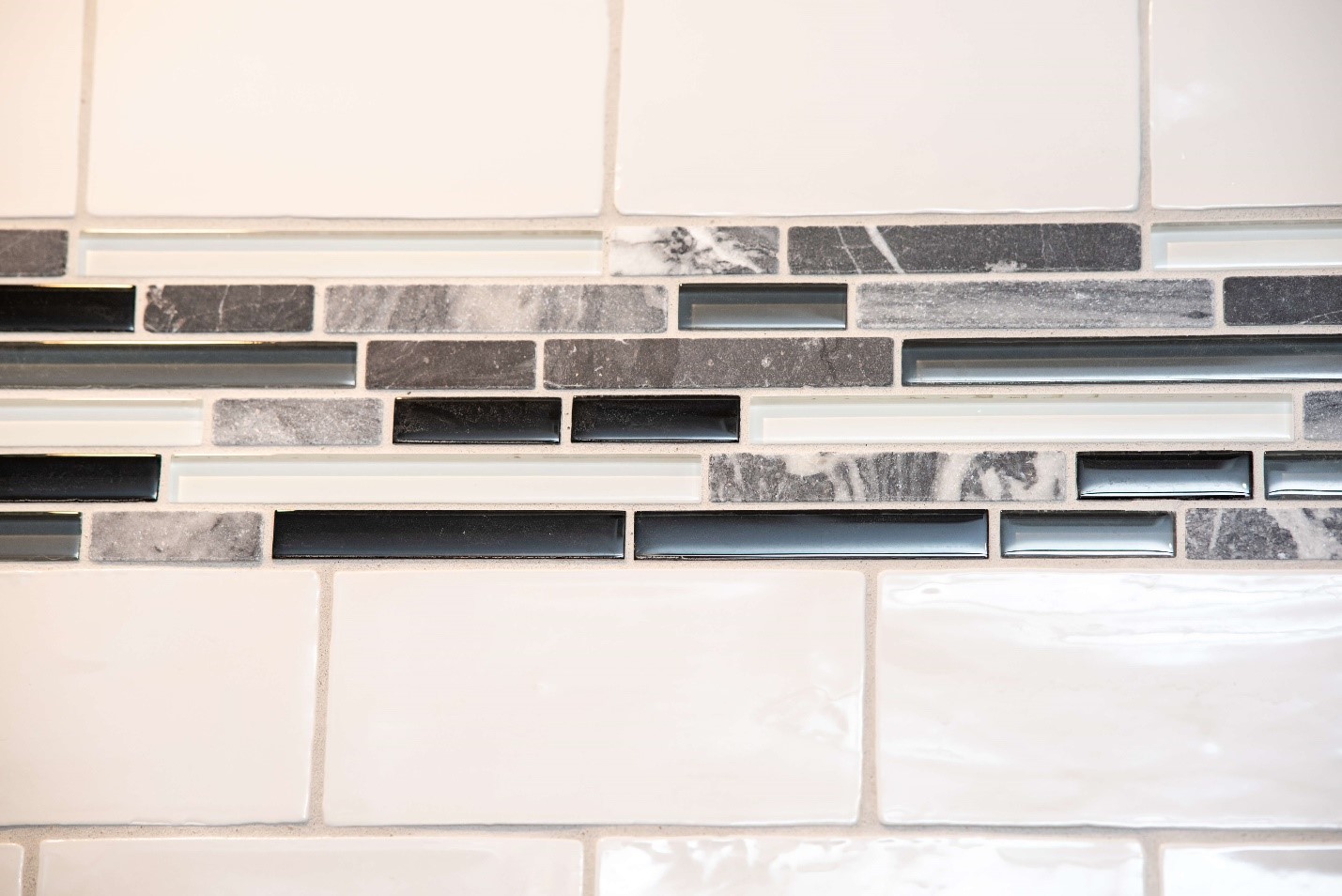 Bathroom Tile
There are infinite tile options, and it's easy to choose a color and tile pattern to match your decor. Subway tile remains a popular choice, and it comes in a few size options. Carefully consider the placement of your tile, since a complex pattern will affect the finished look and the overall installation price.
Accent tile behind freestanding tubs and above vanities creates a unique focal point that balances out an otherwise decorated space. Consider adding a pop of color to your accent tile feature in hues like sage, gold, or even black.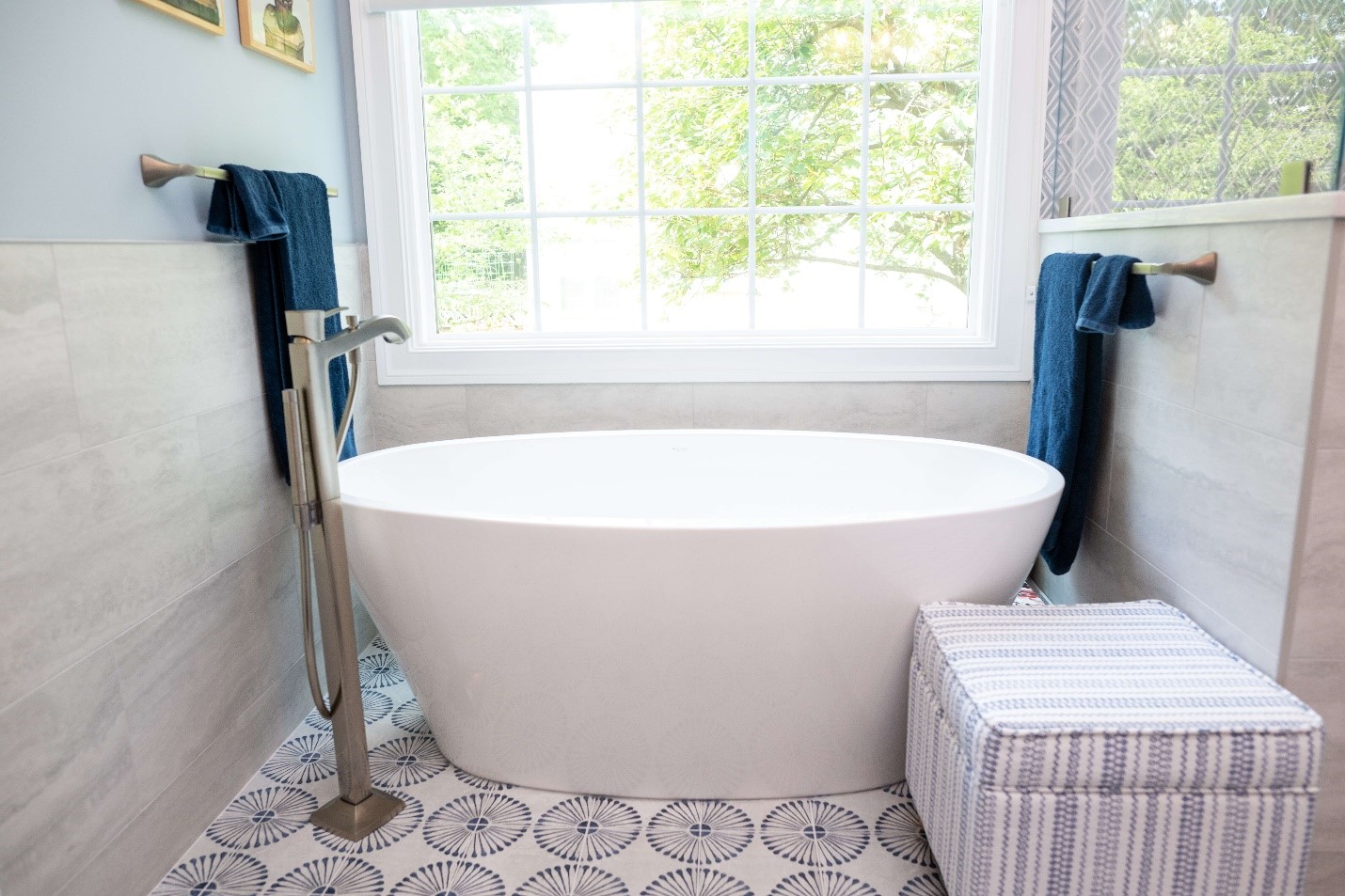 Freestanding Tubs
Freestanding tubs have emerged as a staple in modern bathroom design, exuding both style and luxury. These stand-alone fixtures serve as a centerpiece in the bathroom, offering an elegant and comfortable bathing experience. They come in various shapes and styles, from vintage claw-foot designs to sleek, modern lines, and they can be placed anywhere in the room, providing design flexibility. Moreover, freestanding tubs are easy to install and clean, making them an increasingly popular choice among homeowners.
In conclusion, when it comes to redesigning your kitchen and bathroom, the trends highlight functionality, comfort, and personal style. From the kitchen's heart, with practical islands and innovative lighting, to the bathroom's sanctuary, with spa-like features and digital comforts, each trend reflects a desire for spaces that not only serve their practical purposes but also provide a haven within the home. Keep in mind that while trends can guide your remodeling decisions, your personal needs and style should always be at the forefront. After all, it's your space to live in, enjoy, and make memories.
At Northwood Construction, we know the most up-to-date methods for updating kitchens and bathrooms in the metro Washington D.C. area and what features are worth the expense. If you're ready to renovate your space, contact our experts, and we'll help you create a design that meets your needs and adds value to your home.