The idea of aging in place – the concept of remaining in your own homes through retirement and beyond – is increasingly attractive to many older adults due to its convenience, cost-effectiveness, strong ties to independence and, recently, safety from COVID and other pathogens. With thoughtful home modifications and planning, aging adults can successfully stay in their homes without sacrificing safety or comfort. But there are some big considerations before deciding to undertake such a renovation. In this blog post, we'll discuss the pros and cons of aging in place home renovations.
Overview of Aging In Place Remodeling
Remodeling the home or adding an aging-in-place addition is often the ideal solution for older adults and their families. These are significant home modifications to parts of the house to ensure safety, independence and easy access over time. Aging-in-place remodeling can improve the overall living conditions of an individual's home with better organization, functionality, comfort, and accessibility. By making a home accessible, aging-in-place allows older adults or aging parents to stay in their comfort zone and live independently. It often includes modifying the house to "main floor living" – by adding a first-floor master suite to eliminate the need to go up and down stairs.
With the right remodeling plan tailored specifically to meet their needs, one can still enjoy all everyday life activities without added stress or strain.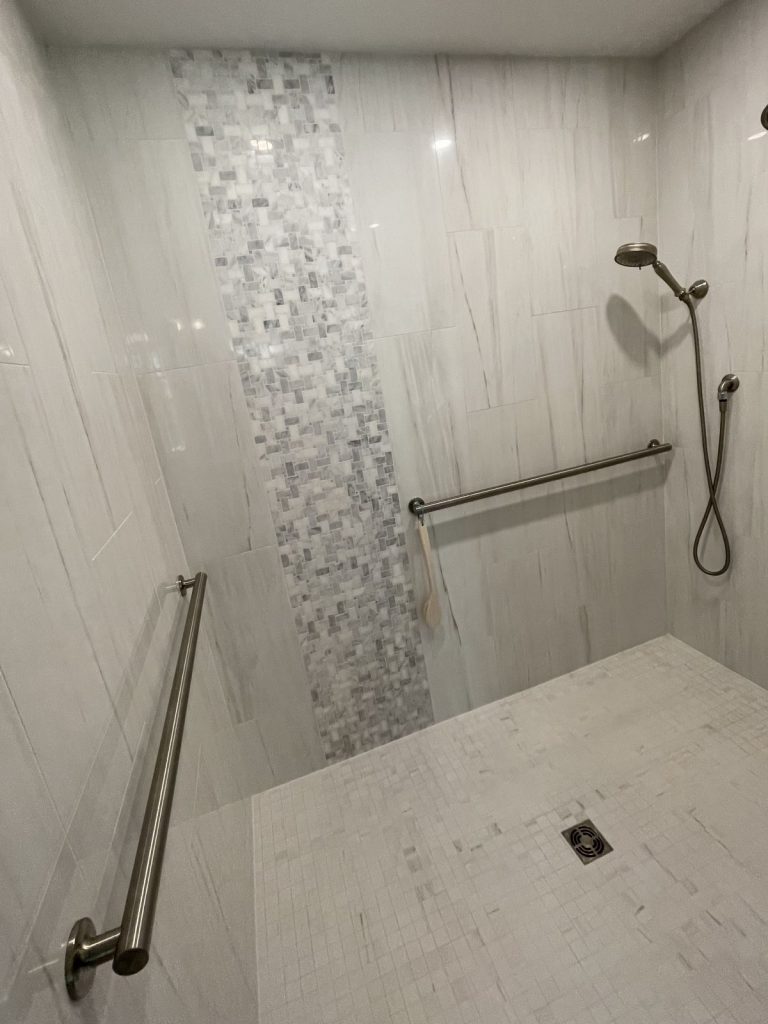 Advantages Aging In Place Home Modifications at Any Age
Aging-in-place renovations, such as adding grab bars in bathrooms, designing a larger bathroom, building ramps or widening doorways and hallways, can make a home more accessible for people with physical limitations. Individuals can maintain their independence because the home becomes safer and provides better protection from falls or other kinds of accidents within the house.
But aging in place home modifications can be an advantage for more than just the elderly. With the medical technology advancements that allow us to live longer and more robust lives, it makes sense to have a house ready for these times when we have temporary mobility issues. For example, it can benefit someone with knee or hip replacement surgery. Once they return home, they may need to use a walker or cane for the short term. A home with grab bars near an existing toilet, wider doorways and a low-threshold or walk-in shower can be a wise investment.
Disadvantages of Making Aging In Place Home Renovations
Aging-in-place renovations allow people to stay in their homes longer, rather than needing a move to an assisted living facility. However, such home modifications can be costly and should be weighed carefully when deciding the best option. Financially, downsizing to a smaller home with fewer maintenance needs might be more beneficial than renovating your existing home.
Furthermore, some alterations may not increase the property value or may even decrease it if done improperly or without considering safety concerns. Consulting an occupational therapist or an aging-in-place certified remodeling professional and researching online sources such as the National Institute of Aging website (part of the National Institute of Health) is a great place for valuable aging-in-place projects that provide maximum satisfaction and value.
Factors to Consider Before Investing in an Age-In-Place Home Renovation
It is always difficult to choose between remodeling your home with age in place in mind, downsizing, or moving into a senior care community (when the time comes). When considering investing in an age-in-place remodeling projects, there are several factors to consider.
Property Limitations: If part of your aging-in-place plan is to expand your home, investigate if there are any property limitations, such as property size, setbacks, zoning laws or other restrictions. Before moving forward, you'll want to know this information and have your home location plat available (you can request this at your county zoning office if you cannot find yours).
Lifestyle Needs: Choosing to do any home remodeling project also involves your emotional attachment to your home and neighborhood. Do you still love your house, or would you prefer something with a little less maintenance? Do you have kids and grandkids in the area? Or would you prefer to move closer to them? You'll want to make sure that the desired changes are tailored to your lifestyle and needs.
Future Health Needs: This involves thinking about the future and your later stages in life. While no one can predict the future, you can consider your current health, genetic health and what other family members have gone through. This will help you determine what is best for your needs today and in the future.
Floor-Plan for Universal Design: Aging-in-place renovations are more than products, such as grab bars and slip-resistant flooring. It's about how the spaces work together so that you can safely and easily navigate your home. How do you make sure that your home stays your home and doesn't feel foreign to you?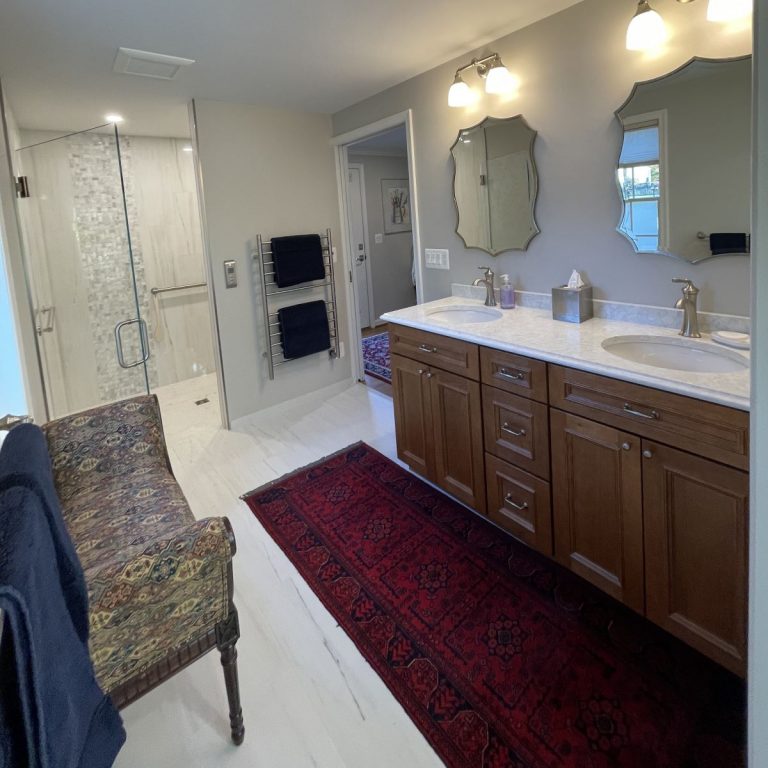 Costs Associated with Aging In Place Home Renovations
An aging-in-place home addition or renovation can be expensive but could be worth the investment. Not only do these renovations create a safe and comfortable living environment, but they may also help people maintain their independence.
Depending on the size and scope of the project, it may include adding mobility features, including:
Adding an elevator to prevent falls while you access the second floor master bedroom
Remodeling the primary bathroom with a shower seat and reinforced grab bar blocks near the toilet (so they can be installed later if needed).
Widening doorways and hallways to accommodate wheelchairs (if needed someday by you or an aging parent).
Remodeling the kitchen for a safer workflow with pull-out shelves and textured flooring material that is less slippery.
Renovating the exterior of your home to have a no-step entry or wheelchair ramp.
Ultimately, investing in aging-in-place remodeling to stay in your home is a decision that should be considered carefully. It is an emotional decision with no right or wrong answer.
Ready to begin an aging-in-place remodeling project? Contact us today. Bob is an NAHB Certified Aging in Place Specialist (CAPS), and we'd welcome the opportunity to answer your questions about aging in place home renovations and remodeling.