The Northern Virginia remodeling market is undoubtedly one of the most competitive in the country. People love living in Fairfax and Loudoun Counties for the closeness to Washington, D.C., the fantastic school districts and the quality of life this picturesque area offers. So it is unsurprising that people are looking to remodel to add more space and value to a home rather than buy a new one. Remodeling a basement is a great way to capture more living space in your home. So what does a basement remodel cost in Northern Virginia?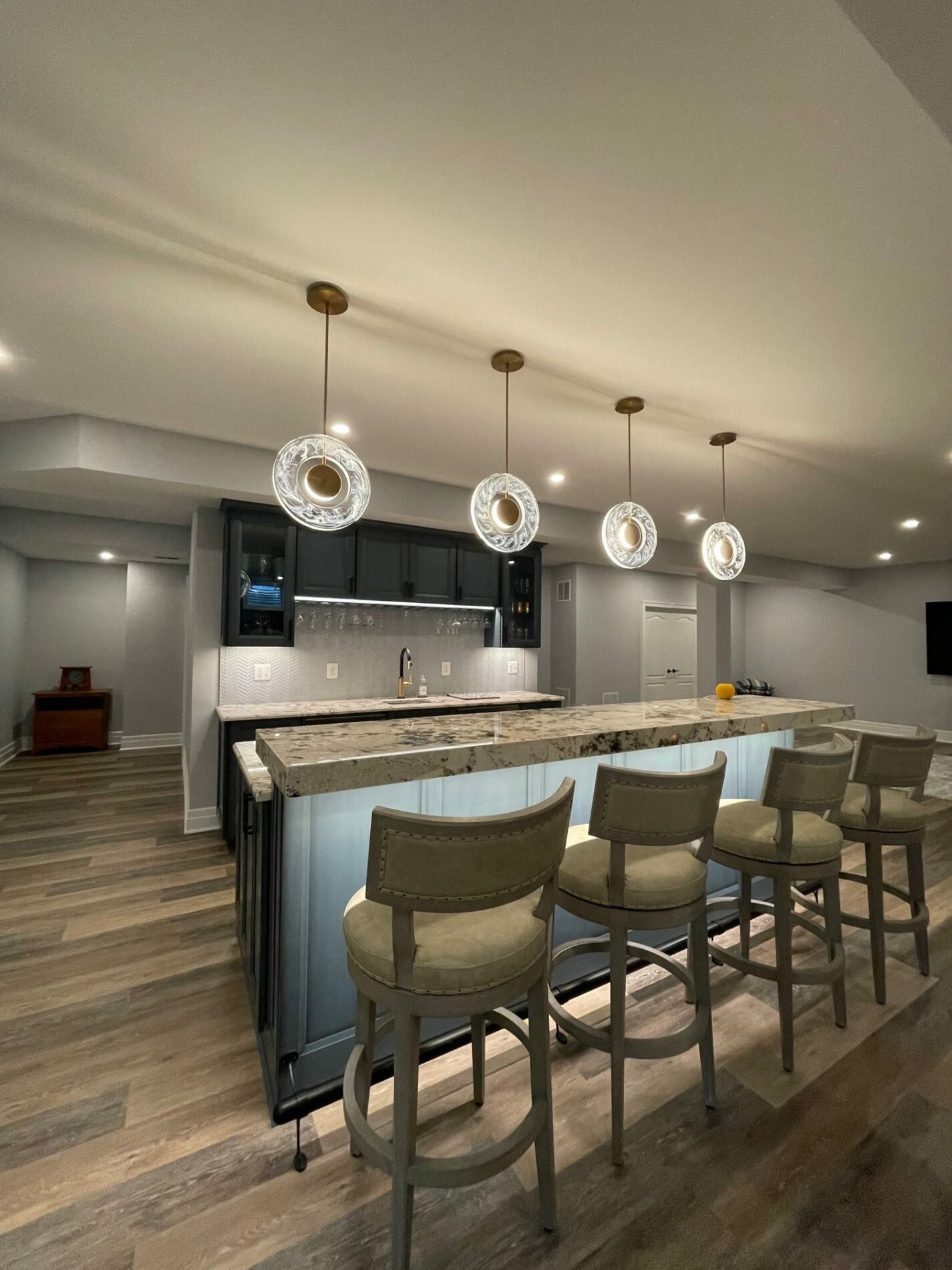 Remodeling did not include basement remodeling/finishing in their 2022 Cost vs. Value Report. In fact, the last year they did was 2017, and the cost to finish a basement in Northern Virginia was $74,216 for a mid-range fit and finish.
Their assumptions for coming up with this basement remodeling costs is that the space is a 20'x30′ entertainment room with laminate floor, recessed lights, painted walls and ceiling, a wet bar area and a 5'x8′ full (basic finish) bathroom.
Our experience has shown that their price for their specifications in 2017 is pretty accurate. For 2022, we feel homeowners should budget between $105,000-$115,000. However, many in our area prefer higher-grade finishes, which raises the basement remodel cost.
Basement Remodel Cost Breakdown
Here are a few additional considerations that may help you better judge the cost of finishing a basement at your home.
Basement Egress
By code, any newly finished basement must have a direct exit outside in case of fire – so occupants can quickly escape and rescuers can enter. There are specific minimum specifications outlined in the building code. If your basement does not allow a direct exit to the exterior, a new exit that complies with the code will need to be included. This can be as simple as an egress window (enlarging an existing window) or as complicated as adding a door with stairs up to finish grade. Depending on the type of exit you need to create, this extra step can add a couple thousand to more than $20,000 to the cost of your basement renovation project.
Larger Basements
The average basement in Northern Virginia is significantly larger than the 640-square-foot example in Remodeling. We see many basements of more than 1000 square feet to several thousand square feet. So, to estimate a realistic basement remodel cost, we suggest using roughly $110–$125 per finished square foot (minimum) plus $30,000–$35,000 for adding a basement bathroom. And remember that their example is for "mid-range" fit and finish. Most people with 1,000 square feet or more to finish are likely to expect a higher fit/finish, so you may want to add a few dollars per square foot to be more realistic.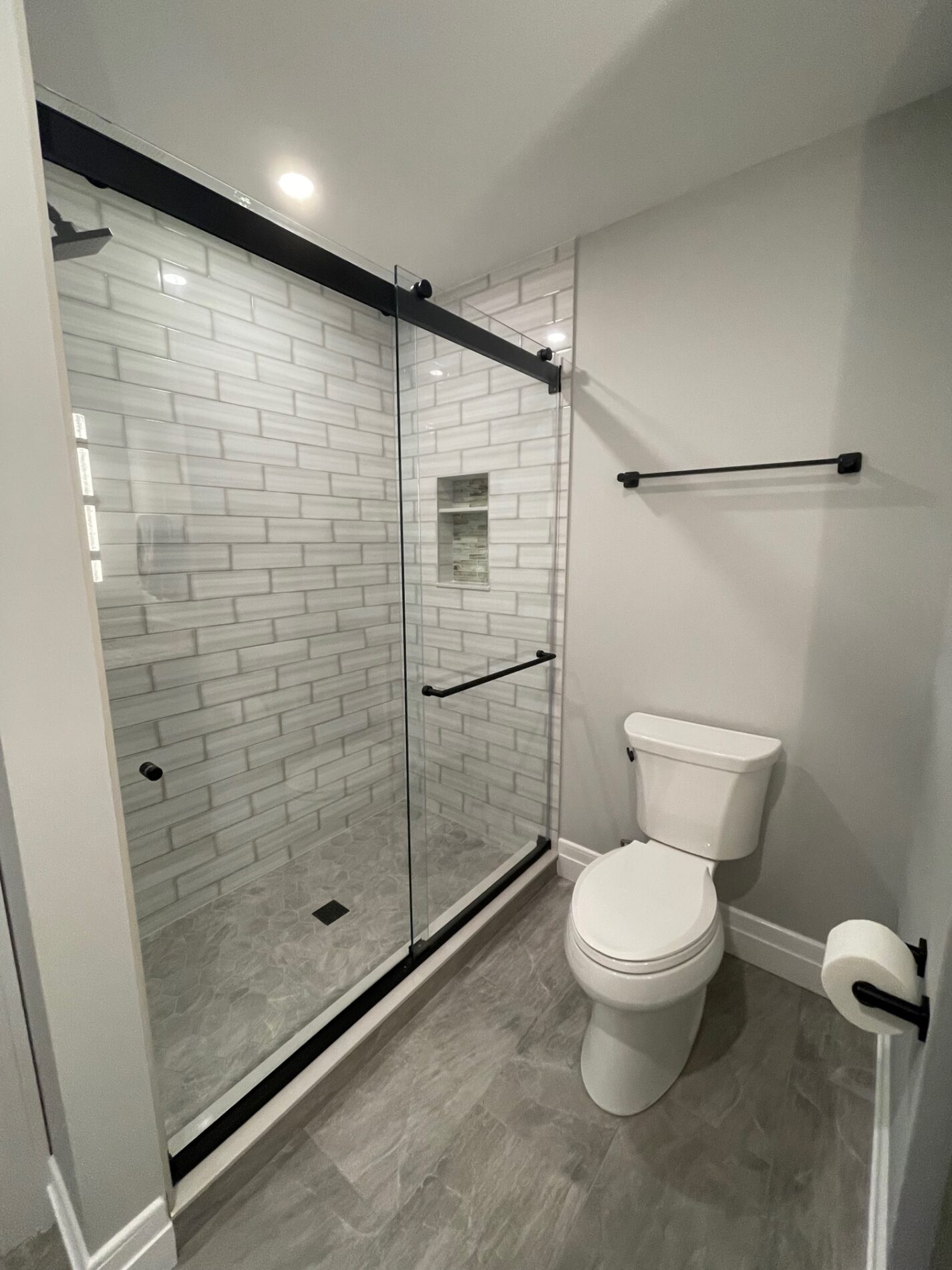 Extra Rooms In a Basement Remodel
Adding multiple rooms to the basement increases the cost. Some people are full of basement ideas and want an exercise room, spare bedroom, finished storage, home theater, or home office in their basement in addition to a bathroom and a large entertainment room. Including more rooms will typically increase the basement remodel cost because more walls, drywall, doors, HVAC, flooring, and electric are involved in the project—not to mention any unique materials needed in special-purpose rooms like rubber flooring in a home gym.
Upgraded Fit and Finish
Many homes in our area have upgraded trim, lighting, cabinetry, flooring, and bathrooms. Assuming that you want the basement to match the rest of the house that already has upgraded finishes, your basement remodel cost will be more expensive than the mid-range example the magazine provided.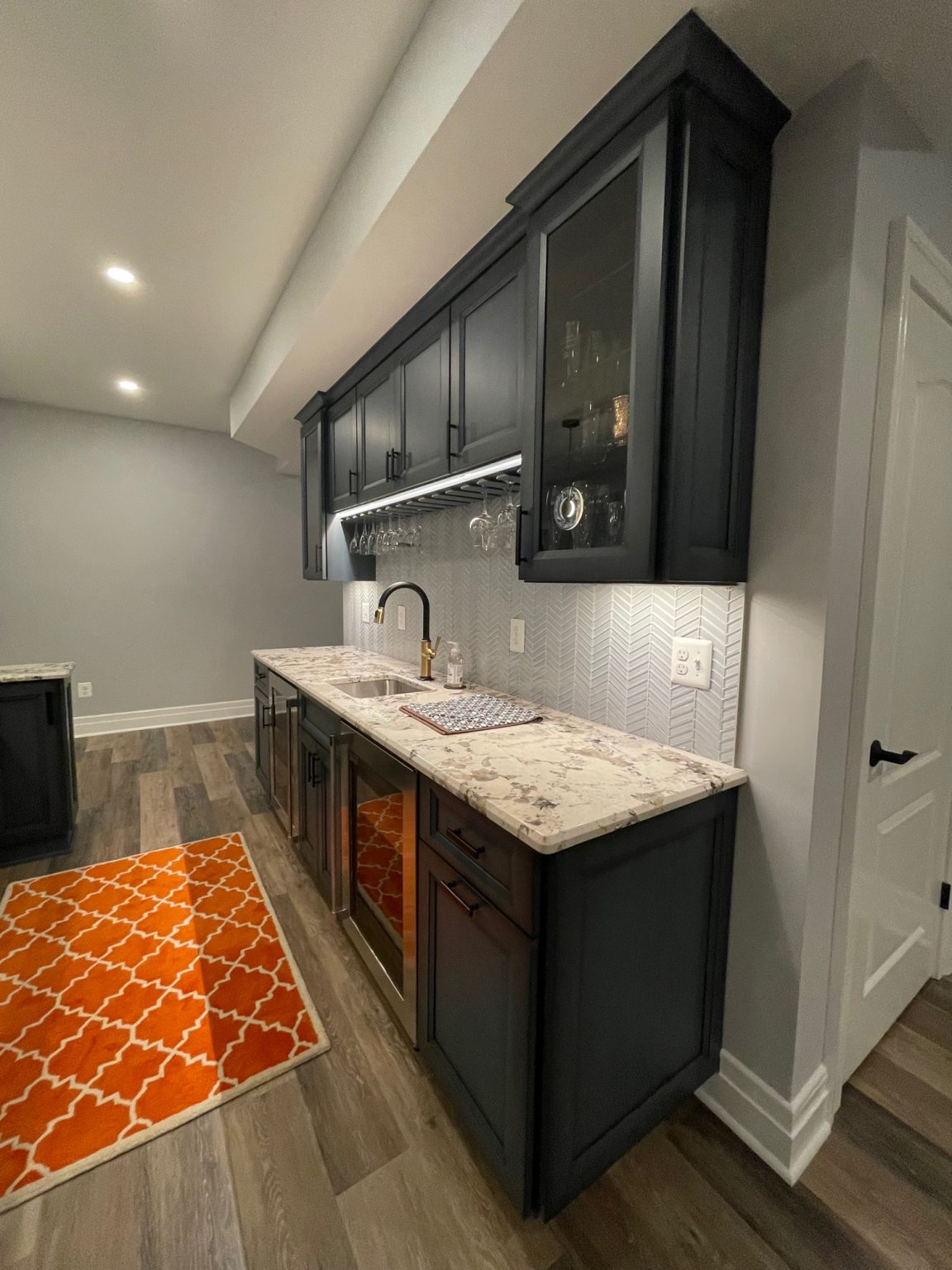 Wet Bar/Serving Area
The bar described in the mid-range basement finishing is functional but basic. Many people desire a walk-behind bar with wood or stone countertops, a custom design, and several appliances, including a refrigerator, a dishwasher and wine storage. Adding these to the bar area will drive the basement remodeling cost out of the mid-range and into the upscale range. A nice wet bar area can add $20,000 to $25,000 to a basement finishing project; however, it is not unusual for a nice bar to add $50,000 to $75,000 to the project total.
So How Much Does it Cost to Remodel A Basement in Northern Virginia?
Adding up all these considerations and assuming that folks in our area often have around a 1000-square-foot basement to remodel, the price surpasses the example listed in the magazine quickly. When homeowners want the fit and finish a little higher than medium and include a big entertaining room, a wet bar area, a full basement bathroom, plus a basic exercise room or home office, we see a price range of $180,000–$200,000 for a nice turnkey basement remodeling project.
Ready to start a basement renovation? Contact us today. We'd welcome the opportunity to hear more about the project you have in mind.
Editor's Note: This post reflects costs as of September 2022.