Are you looking for curb appeal ideas for your Northern Virginia home? A house with good curb appeal will stand out from other homes in the neighborhood, making it more desirable and valuable. From building or enhancing a front porch, turning your stoop into a portico, upgrading windows and shutters, or the front door—these simple but effective improvements will make an impact. Here are five ideas to transform the front of your Northern Virginia home.
Create Instant Curb Appeal with a Welcoming Entrance
A welcoming entrance can make all the difference in your home standing out. Adding flowers or shrubs around the base of your porch, along walkways, and near windows can provide a beautiful accent that brings out the best in your home. Lighting should also be considered for both aesthetic appeal and safety reasons. Install low-voltage outdoor lighting along pathways or up-lighting to showcase trees or plants for a soft glow after dark.
Bluestone pathways that lead from your driveway to your front entrance are another way to add charm and elegance to your home. This type of stone is durable enough for foot traffic but still adds a touch of sophistication with its natural colors and textures. If you already have a bluestone pathway installed at your property, resealing it every few years will protect the grout from dirt and ice melt and ensure it remains strong and vibrant for many years. Along the same lines, if you have an asphalt driveway that looks a little beat up, have it resealed. Not only does it protect your driveway from cracks and potholes, but it will also significantly impact your home's curb appeal.   
Finally, don't forget about decorative elements such as wreaths on doors, planters filled with seasonal blooms by entryways, and flags fluttering from poles above porches. These small touches can pull together the entire look of your front entranceway while making visitors feel welcome before they even step inside.
Enhance Your Front Porch
Improving the entrance of your home can be a great way to boost its visual appeal and value. If you already have a porch and are simply looking for ways to spruce it up, plenty of options are available.
Start by selecting furniture that fits the size and style of your porch. A classic Adirondack chair or wicker settee can provide comfortable seating while adding a touch of charm. If space allows, consider adding a bistro table with stools to enjoy morning coffee or meals outside in the warmer months.
Bringing nature into your porch design is another excellent way to create a welcoming atmosphere. Adding ferns, ivy, and petunias to your porch design can help create a cozy atmosphere. You could also hang baskets filled with flowers on either side of the door for added color and texture.
Adding decorative touches such as beadboard or shiplap ceilings will give your porch a cozy cottage-like feel without breaking the bank. Consider painting these features in a warm color, as you would the interior of your home. For even more visual interest, install sconces along the walls. They will also cast a warm glow at night while providing illumination during dark hours.
Turn Your Front Stoop into a Porch or Portico
Turning your front stoop into a porch or portico (such as the project in Vienna, VA pictured below) can give your home a perfect touch of class and charm. This type of remodeling project is great for flat-front dwellings, as it gives them a bit more character than before. A porch or portico can protect your entryway from inclement conditions when visitors come by. Plus, it's an easy way to add curb appeal and ensure your house stands out on the block.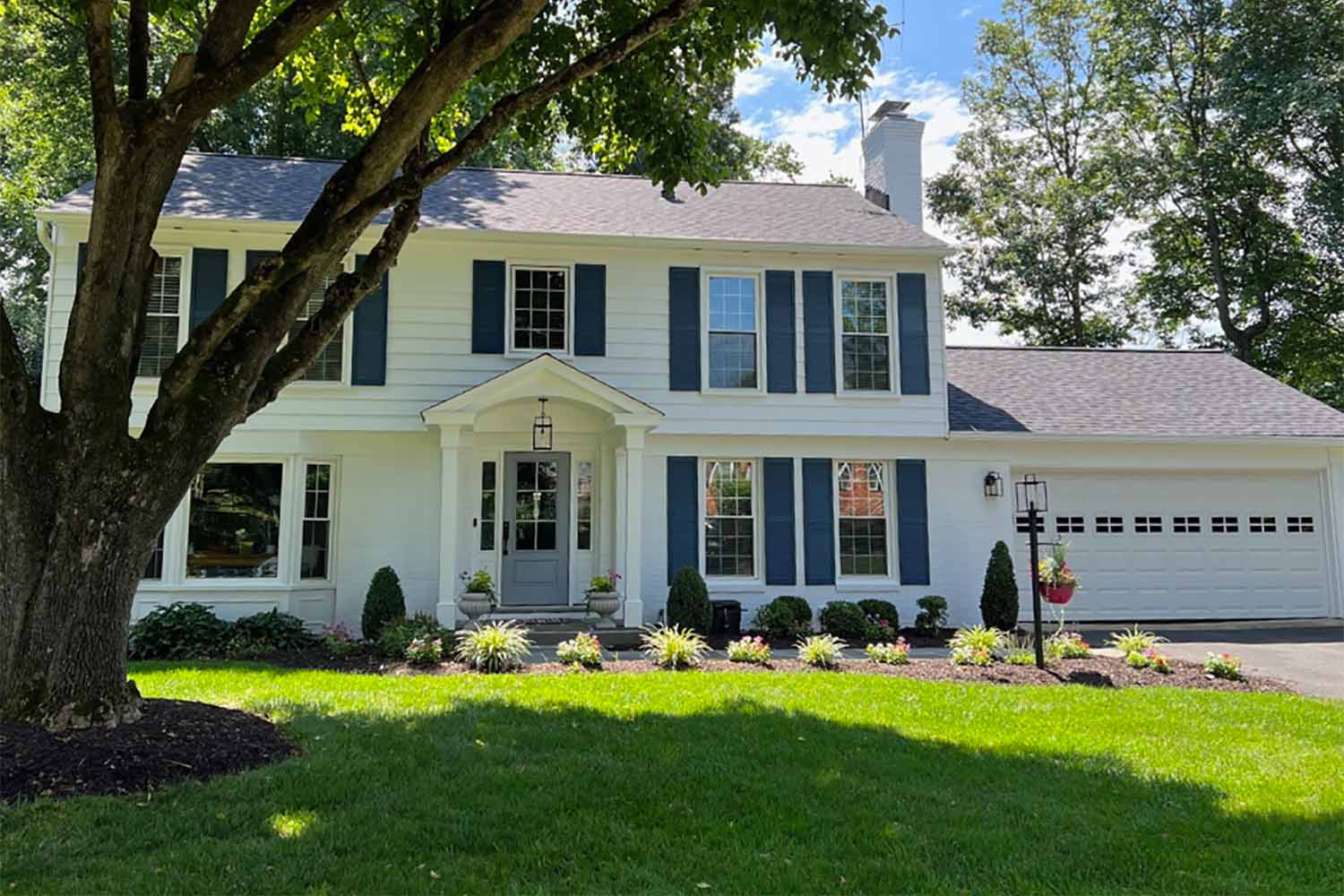 When planning this kind of project, several key factors must be considered: size, materials used, roofing options and lighting design. The structure's dimensions will depend on how much area is accessible in front of your residence —if you have restricted width or height, then it would need to be adjusted accordingly. As far as materials go, wood is always popular (however, we greatly prefer using paintable synthetics to prevent future wood-rot repair), but brick or stone can look beautiful, too. It really depends on what fits with the overall aesthetic of your house best. Finally, lighting design plays an important role in creating an atmosphere; solar lights are energy efficient and provide soft illumination at night, while electric lights may be brighter but require wiring installation. 
Upgrade Windows
Upgrading your windows and shutters is an excellent way to bring about a sense of style, protection, and worth for your residence. From traditional wooden to modern fiberglass frames and black-matte steel designs, there are plenty of options for you to choose from that will enhance the look of your house. 
For those looking for a more classic feel, wood, factory vinyl-wrapped wood and fiberglass windows are an excellent choice. With their timeless appeal and natural beauty, they can instantly transform the front of any home into something special. Wood and fiberglass also offer superior insulation when compared to other materials, which can help reduce energy costs over time. 
If you're looking for a more modern flair, consider changing the exterior color of your windows. Matte black is currently quite popular. Consider no grills or changing the grill layout/style in your new windows for a modern look.
Shutters are another great option for upgrading the look of your windows. Most shutters in our area are decorative, meaning non-operable. Maybe consider adding operable shutters. The realistic operable shutter is a great visual enhancement (NOTE: it can be impractical on some homes). An easy change for shutters is to repaint a new color or replace it with a new style, for example, Shaker VS Louver. Either will create an inviting vibe while still being practical when needed. 
Update Your Front Door
Revamping your entrance can be a simple and cost-effective way to greatly impact your home's curb appeal.  
Replacing your front door is one of the best return-on-investment improvements a homeowner can make according to Remodeling's Cost vs. Value report. Today's style is more glass in the front door and less Colonial panel look.
For hardware, you have a range of choices, such as classic brass knobs or contemporary brushed nickel and black iron handles. You could choose traditional brass knobs or opt for something more modern, like brushed nickel or black iron handles. Don't forget about hinges too. They come in a variety of finishes.
Paint color is another important consideration when updating your front door. For a perfect match, explore the range of colors available to find one that will accentuate your home's style. 
Finally, don't forget other design elements, such as sidelights (windows next to the door) or transoms (windows above the door). These can enhance the overall look of your entrance while providing added security at nighttime and energy efficiency during hot summer days. 
Homeowners in Northern Virginia can create a stunning curb appeal for their homes with the right ideas. From adding a welcoming entrance to updating your front door, these curb appeal ideas will help you take your home from drab to fab. Engaging a reliable remodeling company is paramount for obtaining the best outcome and guaranteeing all projects are done safely and correctly. With the proper design-build contractor, you'll have beautiful curb appeal that will last for years to come. 
Transform your home's curb appeal with Northwood Construction! Our professional design-build team can help you sort through the many curb appeal ideas to create a beautiful, inviting entrance that will make visitors feel welcome when they arrive at your "home sweet home."