As our bodies age, it's important to make sure we have the right design modifications in our bathrooms to account for mobility changes. Aging in place bathroom design combines comfort and accessibility into a single package. Whether looking for something basic or more complex, aging in place offers homeowners the freedom of safety and independence as they move through their golden years. In this post, we will provide tips on using aging-in-place design principles while making innovative modifications so that your bathroom remains a welcoming and comforting space both today and as your needs evolve into the future.
Benefits of an Aging in Place Bathroom Design
Designing a bathroom specifically for aging in place has numerous advantages catering to older adults' unique needs and preferences. The benefits of an aging in place bathroom design can be seen in enhanced safety, improved comfort and expanded autonomy. Let's look at the advantages of designing a bathroom specifically for aging in place.
Increased Safety
A well-designed aging in place bathroom prioritizes safety features that minimize the risk of accidents and injuries. For instance, incorporating non-slip flooring materials, such as a textured tile floor, can help prevent slips and falls on wet surfaces. Additionally, strategically placed grab bars offer support while entering or exiting the shower area, easing down or out of a bathtub or using the toilet.
Improved Accessibility & Comfort
Bathrooms designed for aging homeowners should also focus on enhancing comfort levels by including user-friendly fixtures like walk-in tubs, low-curb or curbless showers, widened doorways, handheld showerheads, larger maneuvering areas, improved lighting, occupancy sensors and wall-mounted sinks.
Greater Independence
Aging in place bathroom designs also promote independence by allowing people to maintain their daily routines without relying on assistance from others. By incorporating features like universal design elements, these bathrooms can accommodate users with varying degrees of mobility and dexterity—allowing them to live comfortably in their own homes for longer.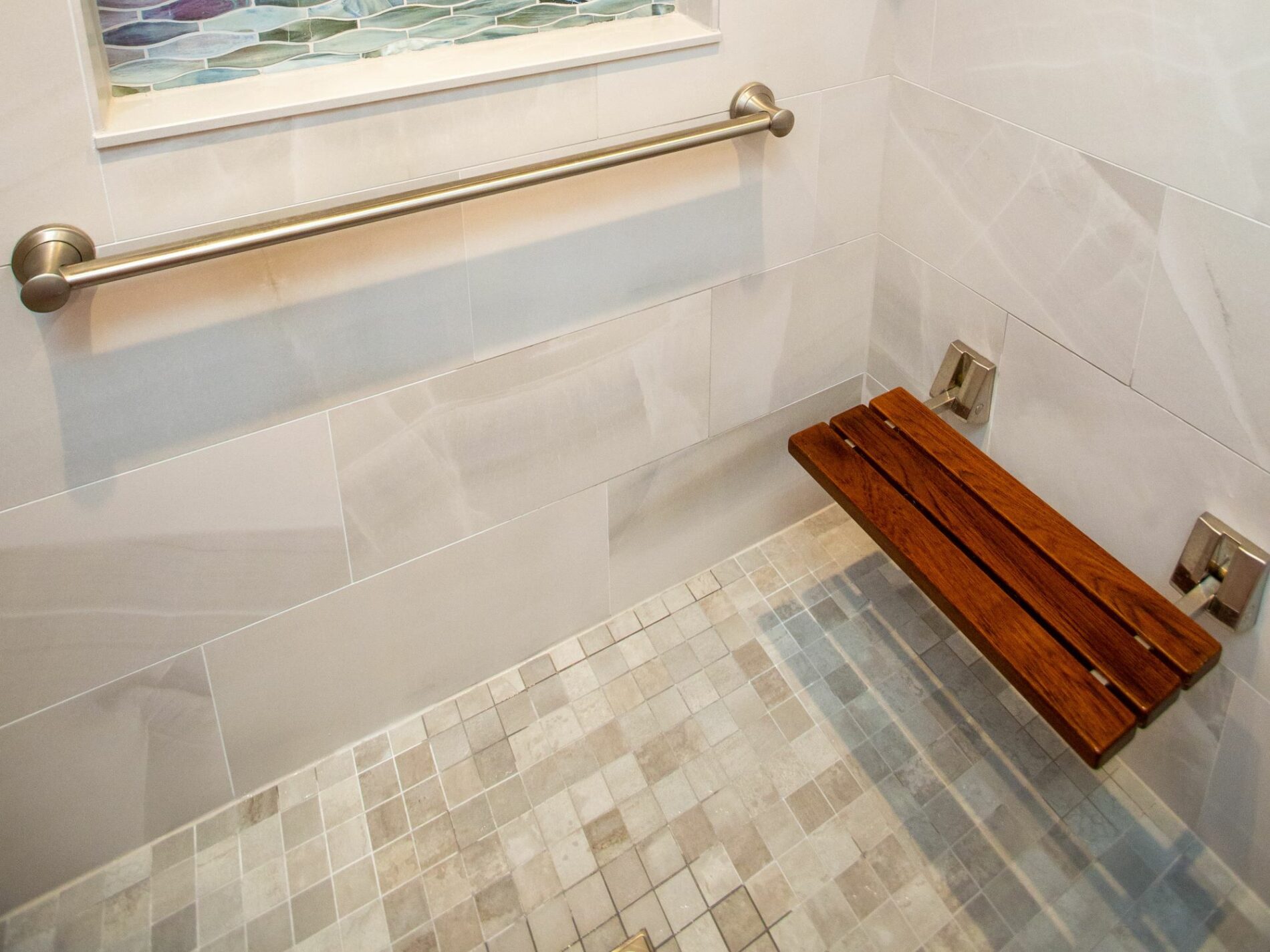 Aging in Place Bathroom Remodeling Ideas
Creating a functional and stylish bathroom for aging in place can be achieved with the right design elements. Here are some recommendations:
Curbless Showers
Curbless showers provide easy access and a sleek and modern look for your bathroom. Not only are they aesthetically pleasing, but they are also incredibly practical for those who have mobility concerns, making them an excellent choice for aging in place. With no curb, stepping up and over a ledge is unnecessary, which can be a tripping hazard.
Note: Our experience is that most people with curbless showers experience some water from the shower finding its way out onto the bathroom floor, so one should expect to dry the floor after use. An alternative to a curbless shower is a low-curb shower.
Walk-in Bathtubs
If you prefer baths over showers, consider installing a walk-in tub. Its unique design offers ultimate comfort and safety for those with difficulty getting in and out of traditional tubs. Walk-in bathtubs feature a water-tight door that allows you to step inside without climbing over the tub's edge. Not only do walk-in bathtubs make bathing easier, but they can also have many therapeutic benefits. They often come equipped with specialized features such as built-in seats, hydrotherapy jets and air jets that can help soothe sore muscles and joints. Another very useful option for a walk-in tub is a handheld spray. This option allows one to "shower" while sitting in the tub.
Adjustable Shower Heads & Handheld Sprays
Incorporate adjustable-height shower heads and handheld sprays into your aging in place bathroom design for added convenience. These fixtures offer flexibility in water pressure, spray pattern and height, so you can easily switch between a soothing rain shower, a targeted massage, or a gentle mist. Plus, with their stylish and modern designs, these showerheads and sprays can enhance the look and feel of your bathroom. These features make it easier for individuals of different heights or abilities to use the shower comfortably.
Non-slip Flooring Options
The bathroom is one of the most dangerous rooms in the home where falls happen, so selecting the right bathroom flooring should always be a top priority. Luckily, plenty of tile options for non-slip bathroom flooring are both practical and stylish. One option is textured tiles, which provide extra grip and come in various colors and patterns. When selecting tile for a bathroom floor, always ensure the tile has a slip resistance rated for flooring. With so many non-slip tile options available, you can have peace of mind knowing your bathroom is safe. Also, bath mats should be low profile to not create a tripping hazard and have slip-resistant backing.
Grab Bars & Handrails
Installing grab bars and handrails in strategic locations throughout the bathroom can provide additional support for users as they navigate the space. Consider placing them near toilets, showers, bathtubs, and sinks to help prevent falls.
Important Note: Most falls in showers happen while transitioning from the main bathroom into or out of the shower. A vertical grab bar at this transition space is a high value for reducing falls.
Comfort Height Toilets
Comfort height toilets, also known as chair-height toilets, are slightly taller than standard models, which makes sitting down and standing up easier for individuals with mobility challenges without straining their knees or back. Most of these toilets are ADA height; however, the manufacturers use the terms "Comfort" or "Chair" height.
Tip: Test before buying. Some people feel these taller-than-standard toilets are uncomfortable for their body type despite being easier on their knees and back.
Adequate Lighting & Contrasting Colors
Bright lighting helps improve visibility while contrasting colors on walls, floors, countertops, and fixtures can make it easier for those with vision impairments to navigate the bathroom safely. Night lights that are always on in the dark are a great idea. These can be the old simple plug-in style or permanent lights illuminating the floor without being blindingly bright. Don't forget about night lighting from the bed to the bathroom door. Dimmers in the bathroom are quite popular and functional for aging in place.
Ergonomic Fixtures for Better Functionality
Other items to consider when remodeling your bathroom with aging in place in mind include lever handles and pull-out shelves. Lever-style handles are more straightforward to operate than traditional knobs because they require less grip strength—ideal for those with arthritis or other hand-related issues. Pull-out shelves under sinks enable easy access to toiletries without bending or reaching, reducing the risk of injury.
Tips for Implementing an Aging in Place Bathroom Design
To ensure your bathroom is suitable for aging in place, it's important to follow some essential tips when planning and designing.
Selecting the Right Materials and Fixtures
Choosing durable and easy-to-maintain materials is crucial for creating a long-lasting bathroom. In addition to selecting slip-resistant flooring, opt for easy-to-clean surfaces, like quartz or solid surface countertops, that resist staining and require minimal maintenance. Other ideas include:
Faucets: Select lever-style faucets that are easier to operate than traditional knobs. Look for models with anti-scald features to prevent burns from hot water.
Toilets: Choose comfort-height toilets (17-19 inches) that make sitting down and standing up more manageable compared to standard-height toilets (14-15 inches).
Sinks: Wall-mounted sinks provide ample knee clearance underneath, offering enough counter space around the basin area.
Cabinetry: Opt for pull-out shelves or drawers instead of lower cabinets which can be difficult to access when mobility becomes limited. Select a cabinet height that suits your tolerance for bending at the waist.
Staying Within Budget
Creating an accessible bathroom doesn't have to break the bank. Here are some tips for staying within budget:
Prioritize essential features: Just like with any other bathroom remodeling project, focus on incorporating the most critical accessibility elements first, such as renovating the shower area and adding non-slip flooring and comfort-height toilets, before including luxury items like heated floors or towel warmers.
Shop around for materials: Your remodeling company will help you compare prices from different suppliers and may be able to advise you on more affordable alternatives without compromising quality or safety.
Avoid moving plumbing fixtures if possible: Relocating plumbing can significantly increase costs; try working with existing layouts when feasible.
Hire professionals specializing in aging in place design: Work with experienced design and remodeling professionals (preferably certified in aging-in-place design) to ensure your project is designed to meet your needs and completed efficiently to eliminate costly mistakes during construction.
Incorporating these tips into your planning process will help ensure a successful implementation of an aging in place bathroom design that provides safety, comfort, and independence for years to come.
Aging in-place design is an excellent way to ensure your home environment remains comfortable and safe as you age and for older adults you love. Remember that every individual's needs may vary; consult with a professional design-build remodeling contractor like Northwood Construction to create a customized aging in place bathroom design tailored to your home and lifestyle.