A home dog washing station can make an easier time of the often messy task of cleaning your canine companion. It provides a dedicated space to groom your pet comfortably and efficiently. If you are considering installing a dog washing station in your home, here is everything you need to know.
What is a Dog Washing Station?
A dog washing station is a dedicated space set up in your home specifically designed for washing your pet (think of a downsized shower and that's a home dog wash station). It usually includes features such as a water source (a shower, faucet, or spray), a non-slip surface for safety, and easy-to-reach places for shampoos, towels, and other grooming essentials. It provides a convenient, less stressful environment for both pet and owner, eliminating the need for you to be hunched over a tub bath or trips to the professional groomer (some dogs, like mine, don't stay clean long).
Benefits of Having a Dog Washing Station
Having a dog washing station at home brings several benefits. First, it provides a safe and controlled environment for bathing your pet, which can especially benefit dogs that are anxious or fearful of water. Second, it can lead to substantial cost savings over time as it eliminates the need for regular visits to professional groomers. And finally, it's quite convenient, especially during the messier winter and spring months here in Northern Virginia. A dedicated washing area lets you easily clean up your pet after a muddy walk or an unforeseen mess.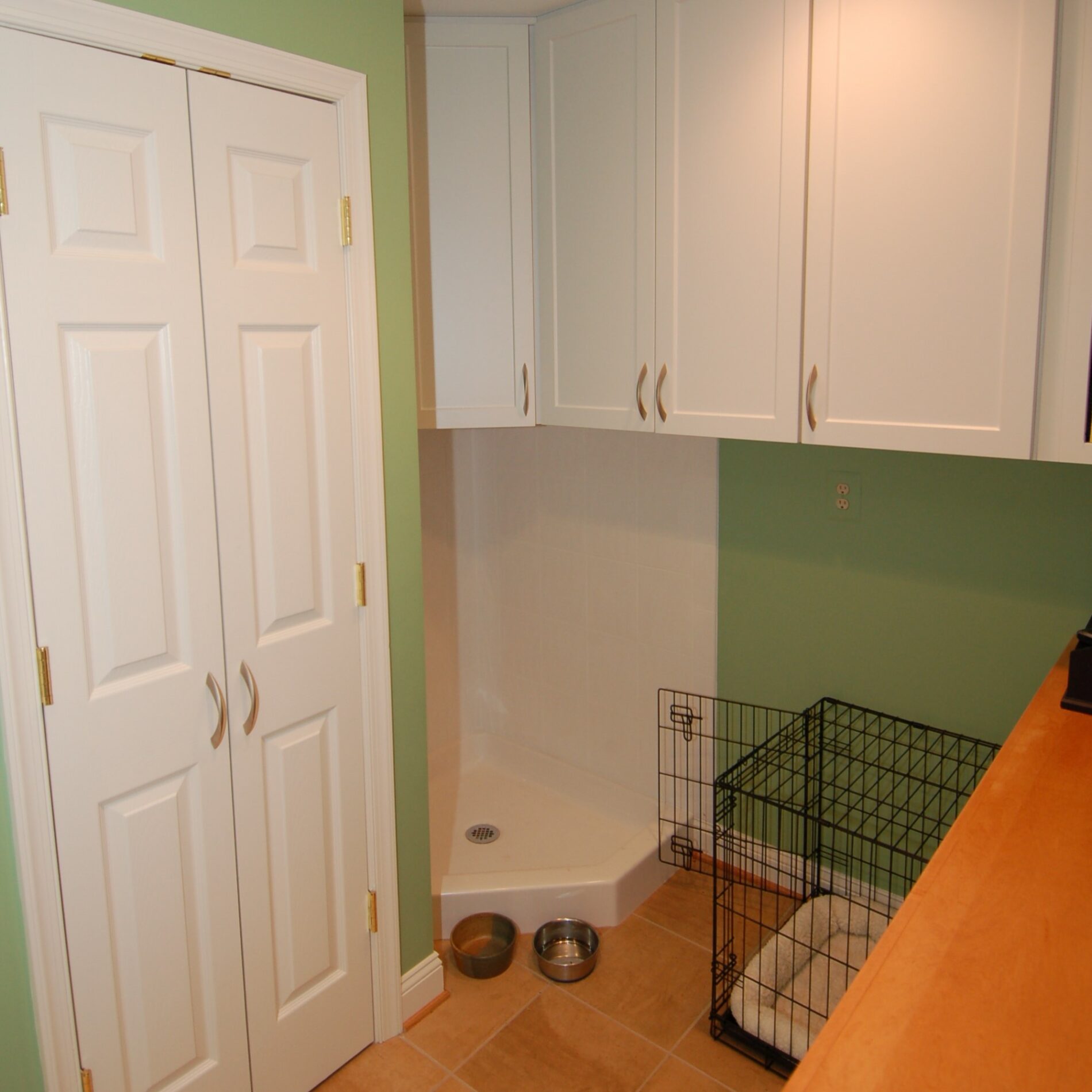 Types of Pet Grooming Tubs
Consider these various dog washing stations, depending on your space, budget, and your pet's needs.
In-Built Dog Showers: These are permanent fixtures that are integrated into your home's design, often in a laundry or mud room. They usually have tiled walls and floors, a hand-held shower head, and potentially a raised platform (usually for smaller dogs). They often have features such as built-in ramps, non-slip mats, and hand sprayers.
Walk-in showers: Walk-in showers are similar to those designed for humans, but they are made for dogs. They usually have a low entry point and provide ample space for dogs of all sizes.
Portable Dog Grooming Tubs: These are standalone units that you can place in your yard, your garage or even a bathtub. They are typically made from durable plastic or stainless steel and often come with built-in ramp (or steps) and storage trays for shampoo and brushes.
Outdoor Dog Showers: These systems attach to your garden hose, allowing you to wash your dog outside. They often come with adjustable water pressure settings and multi-function sprayers.
Each type has its own pros and cons, so you'll need to consider which one best suits you and your pet. Regardless of the type, having a dedicated dog washing station will undoubtedly make the task of keeping your pet clean much easier and more efficient. 
Planning Your Home Pet Grooming Station
When planning a home pet grooming station, several factors must be considered to ensure it's both functional and efficient. It's important to evaluate the size of your pet, the available space in your home, your budget, and the specific bathing needs of your furry companion.
Location
Choosing the right location for your home dog washing station is vital. In Northern Virginia, it's common to find these washing stations in the mudroom or laundry room, although we've seen them in the garage, too. This is because these areas often have tile or linoleum flooring that's easy to clean and are typically located near an outdoor entrance, making them ideal for cleaning up a muddy pet before it tracks dirt throughout the house. Furthermore, the availability of water supply and drainage in these areas makes them practical choices.
However, the walk-out basement could be an excellent alternative in homes where the mudroom or laundry room isn't an option or for those who prefer a separate space. This offers the convenience of an outdoor entrance, crucial for muddy days, and can often be customized to include the necessary plumbing and drainage. Remember, the most important thing is that the chosen location should be easily accessible and comfortable for both you and your pet.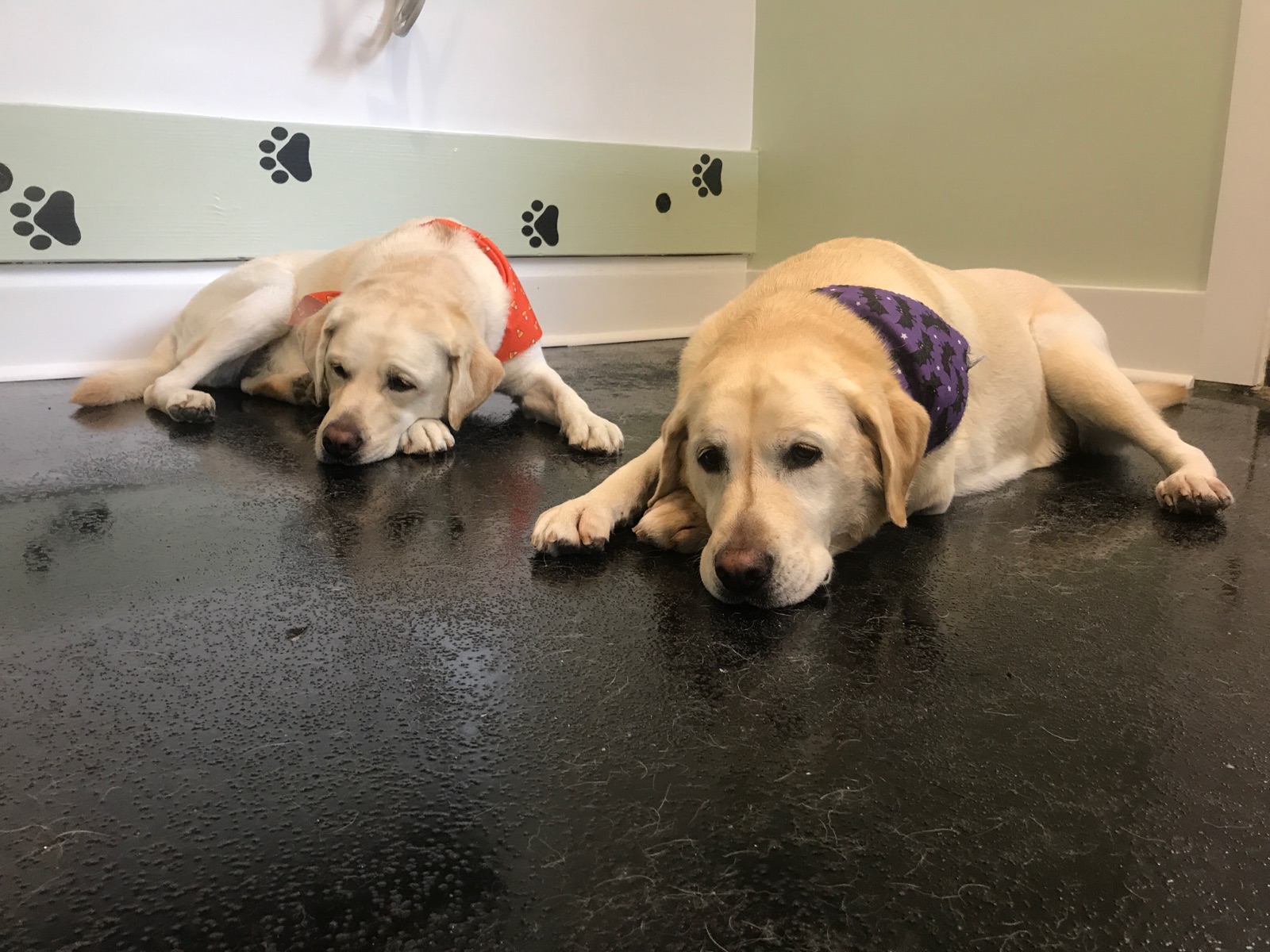 Size
The size of your home dog wash station should primarily depend on the size of your pet. Your dog should be able to comfortably fit in the station, with enough room to move around a bit. Small to medium-sized dogs might be fine in a tub or shower around 24 inches wide, while a large dog might require a space at least 36 inches wide. Moreover, if you have a tall breed, you might want to consider a deeper basin to prevent water from splashing out.
Lastly, consider the features you want in your dog washing station. A larger station might be needed if you want built-in storage for grooming supplies. If you need a simple spot to rinse off your dog, a smaller, simpler setup might suffice.
Built-in Dog Wash Station Features
When it comes to built-in dog washing stations, several key features enhance the convenience and efficiency of your pet's bathing routine.
Raised Platform: A raised platform is designed to make it easier and less stressful for both the pet and you. These can come equipped with a ramp or fold-out stairs, making it easier for your pet to get inside. A raised platform will save your back as you can stand comfortably while washing your dog. Some platforms even come with adjustable height features for maximum flexibility.
Non-Slip Surface: Safety is paramount, so a non-slip shower floor is a must to prevent your pet from slipping and getting injured during a bath. When we design a dog wash station for large dogs, we use a pre-made shower floor that has a slip-resistant surface built-in. A shower mat works great to reduce slippage and anxiousness in some dogs
Tile Wall: Tile is an excellent choice for the walls of your dog washing station. It's easy to clean, durable, and waterproof, making it ideal for a space that will be constantly exposed to water, especially when a dog shakes. For the dog washing projects we've completed, we typically tile between 4-6′ in height (depending on the layout and dog size). For less budget impact consider "Shower Surround Panels" – the type that glue to moisture resistant drywall. These are quick and easy to install and your pet won't know if it's tile or composite.
Hand-Held Shower Head: This feature lets you easily control the water's direction and helps you reach difficult areas without moving your dog around too much. This is also critical for splash control!
💡Tip: Look to a dog grooming supplier for a good hand-held shower that lets you control the water without reaching for the shower valve every few minutes. 
Adjustable Water Temperature and Pressure: Just like humans, dogs also have water temperature and pressure preferences. Having the ability to adjust these settings in your dog washing station can make bath time more comfortable for your pet.
Drainage System: A good drainage system is crucial for efficient water removal. Additionally, a drain strainer is paramount to keep dog hair from going down the drain and creating a clog.
Built-In Storage Space: Having dedicated storage space for pet grooming products such as shampoo, conditioner, brushes, and towels is incredibly convenient, keeping everything you need within arm's reach.
Leash Tie-Down: A leash tie-down feature can help keep your dog secure while you wash them, which is particularly useful for more energetic pets. This can simply be an eye hook installed through the tile and into a wall stud. Stainless steel (no rust) eye hooks can be found at boating supply stores.
Other Uses for a Home Dog Wash Station
A home dog wash station is not solely for the purpose of washing your pet. It is also a versatile utility area that can serve multiple purposes.
Boot Rinse: One common use is rinsing off muddy or snowy boots in inclement weather, preventing the spread of dirt throughout your home.
Garden Wash: Additionally, after a day of gardening or working in the yard, the pet grooming tub is a convenient spot to wash off dirt and grime (from you or from your vegetables) before entering other parts of the house. Its drainage system and water supply make it perfect for this purpose without having to walk through the house to reach the bathroom or kitchen sink.
Utility Sink: In fact, its utility extends to cleaning outdoor gear and equipment as well. From bicycles to gardening tools, the station can handle anything that could benefit from a good rinse. In essence, a home dog wash station can double as a multipurpose cleaning area, enhancing its value and functionality in your home.
If you'd like to explore the possibility of designing a dog washing station for your home so your pet can love you even more (than they already do), contact us. We'd be happy to help.