Window aesthetics is all about making your windows visually appealing and stylish. It's an important part of architectural design, bringing together functionality and charm. The way your windows look can have a big impact on the overall appearance of your home, adding a touch of elegance, modernity, or traditional charm. Plus, it's not just about beauty – it also helps create a cozy and well-lit space, enhancing natural light and offering breathtaking views. So, let's make your windows a beautiful and inviting feature of your space.
Materials for Standard Windows for the Home
When it comes to standard window materials, the most common are wood and vinyl, but windows made from composite, aluminum and fiberglass are also making a splash on the market.
Wooden windows: These classic windows exude warmth, character, and timeless appeal. They are highly customizable in terms of size, shape, color, finish, and design. They also offer excellent insulation properties and durability. However, they do require regular maintenance to prevent rot and decay.
Vinyl windows: Vinyl is a popular material used in modern window manufacturing due to its cost-effectiveness and low maintenance requirements. It offers good energy efficiency and has a wide range of design options and can be customized to resemble wood or aluminum frames.
Composite windows: Composite frames are a combination of wood and vinyl materials, offering the best of both worlds. They offer excellent insulation, durability, and aesthetics. Andersen Window's Fibrex(r) material is twice as strong asn vinyl and "performs better with exposed to extreme temperatures and delivers exteriors that won't fade, flake, blister or peel."
Aluminum windows: Aluminium windows are lightweight, strong, and durable. They come in a range of styles and can be powder-coated to any color or finish. Their slim frames make them perfect for modern homes with large glass areas and provide a nearly maintenance-free exterior.
Fiberglass windows: These are relatively new in the market but are gaining popularity due to their superior energy efficiency, strength, and low maintenance requirements. They can be customized to mimic other window materials' aesthetics while providing greater durability.
Source: Andersen Windows & Doors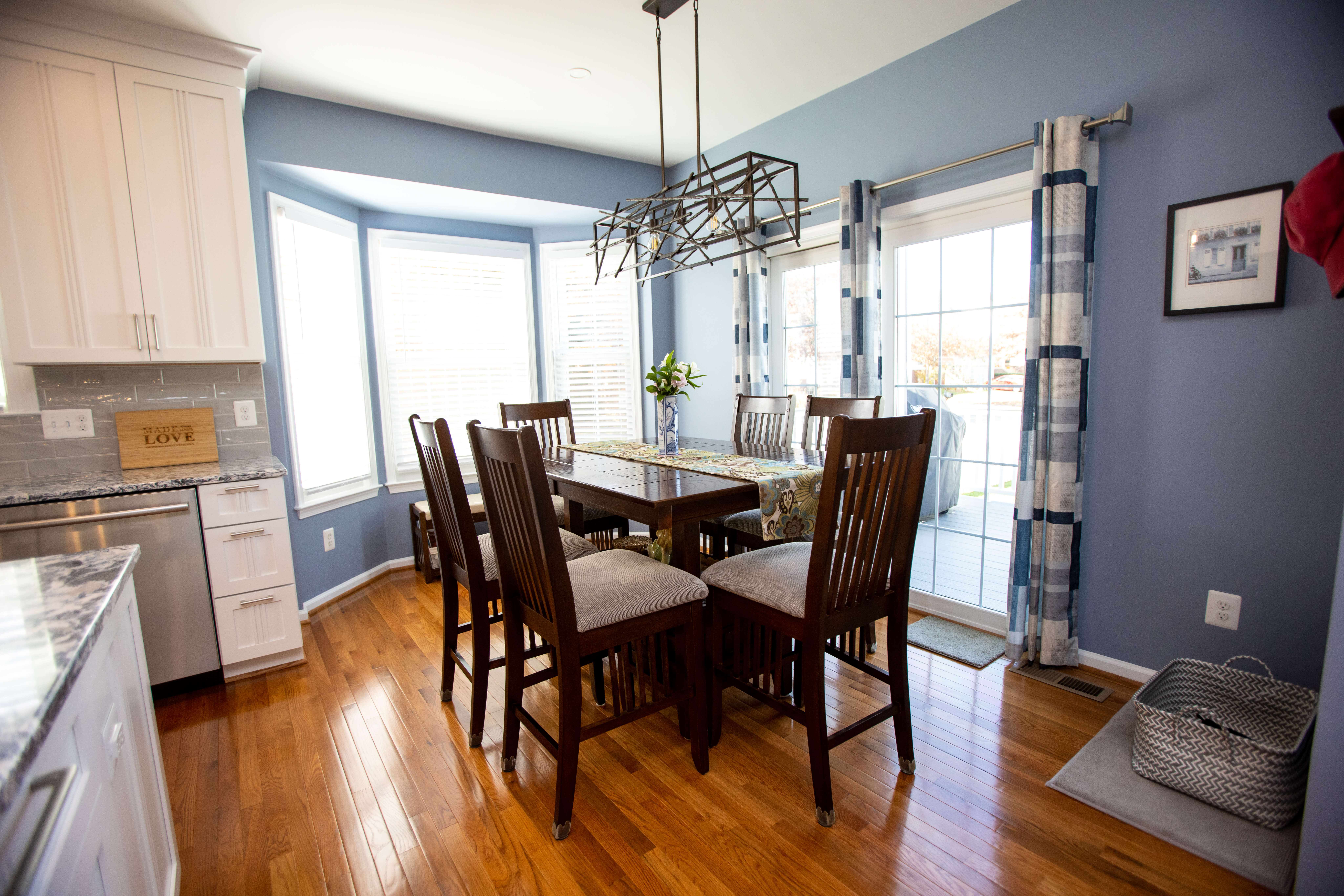 Window Styles
Windows come in various styles, each offering a distinctive look and functionality, and the window's style can drastically change a home's aesthetic, making it a key element in architectural design.
Single or double-hung windows: These are the most common windows. They are characterized by their sashes that slide up and down, allowing for ventilation from either the top or bottom of the window. They are highly versatile and can be used in various architectural styles, including traditional, modern, and contemporary.
Casement windows: These windows open outwards on a hinge, often featuring a crank mechanism. They offer unobstructed views and excellent ventilation capabilities. They are modern-looking and complement contemporary home designs.
Sliding windows: Sliding windows offer a sleek, contemporary look and are great for openings with limited space. They operate on a track and slide horizontally, making them easy to use.
Picture windows: These are large fixed-pane windows that allow abundant natural light into spaces while offering unobstructed views of the outdoors. Picture windows create an illusion of bringing the outside in, making them perfect for homes or spaces with beautiful views.
Bay windows: These are a combination of three or more windows that project outside a building's exterior wall in a "U-shape" that creates additional interior space and offers a panoramic view. They add character and natural light to the home.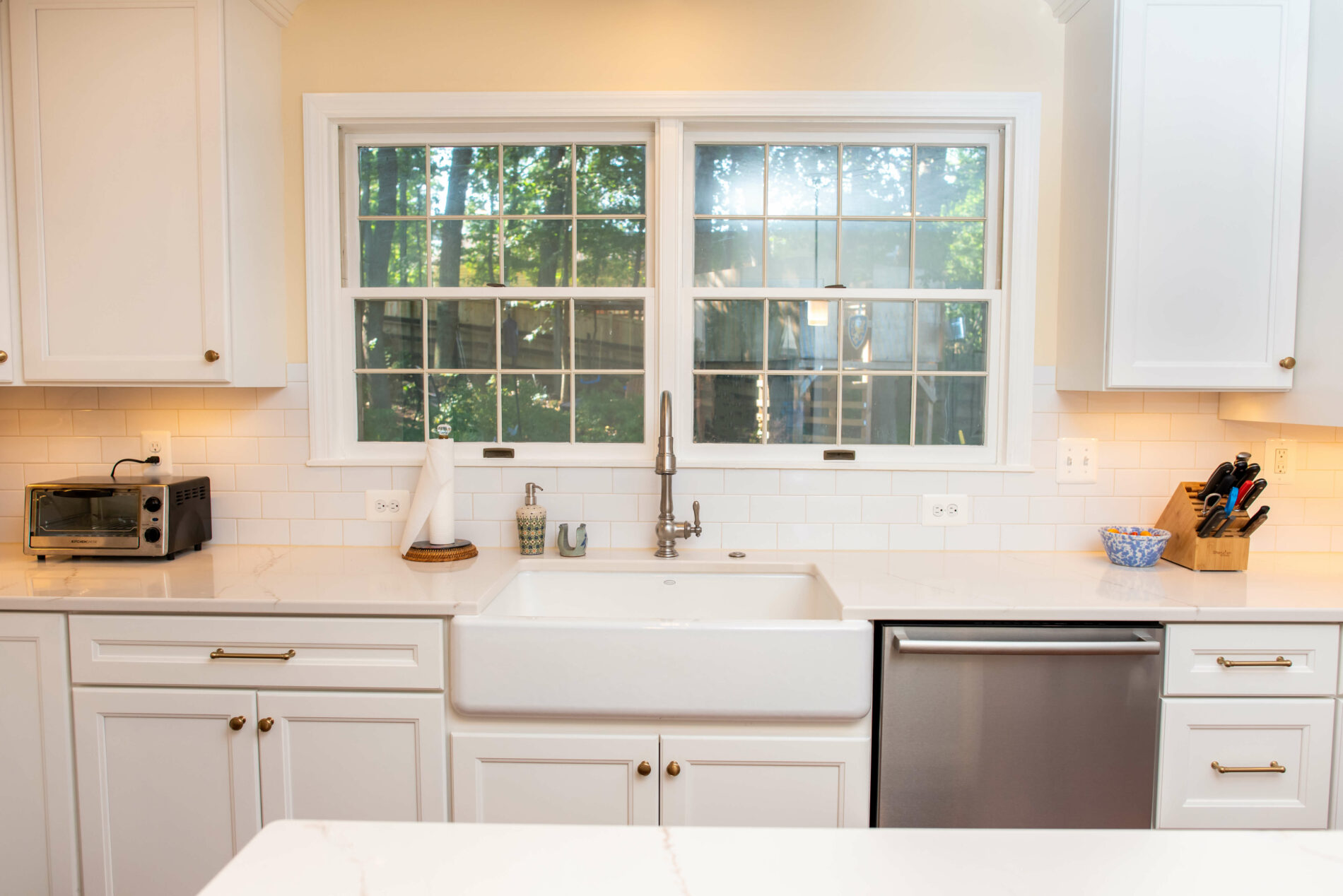 Window Features
Window features not only augment the overall aesthetics but also add to the windows' functionality and ease of use.
Grid pattern: Grids, also known as grilles, refer to the horizontal and vertical bars that divide a window's glass into smaller panes. They add depth, character, and visual interest to windows.
Shape: Window shapes can vary from rectangular to arched, round, triangular and more. Each shape adds a distinct aesthetic appeal to any building design.
Dividing lights: These are narrow, horizontal bars that divide a window's glass into smaller panes. They add a traditional or historic charm to windows and complement homes with traditional architecture.
Obscure glass: This type of glass is textured, frosted, or tinted to offer privacy and diffuse light while adding a decorative element to windows.
Hardware: Window hardware refers to the handles, hinges, locks, and other accessories used in window operation. They come in various finishes and styles that can add an aesthetic touch to any window design.
UV protection: Some windows come with UV-resistant coatings that help protect interiors from fading due to harmful ultraviolet rays.
How Standard Windows Can Be Used to Achieve the Desired Aesthetics
It's fascinating to see the multitude of options available with modern standard windows, especially when compared to two decades ago. Manufacturers like Andersen Windows, our preferred choice, offer the flexibility to customize our window orders, allowing us to achieve the desired aesthetics. As depicted in the image, we have a wide range of choices for the exterior and interior window frames, hardware, and grille patterns, creating a customized feel without the hefty price tag.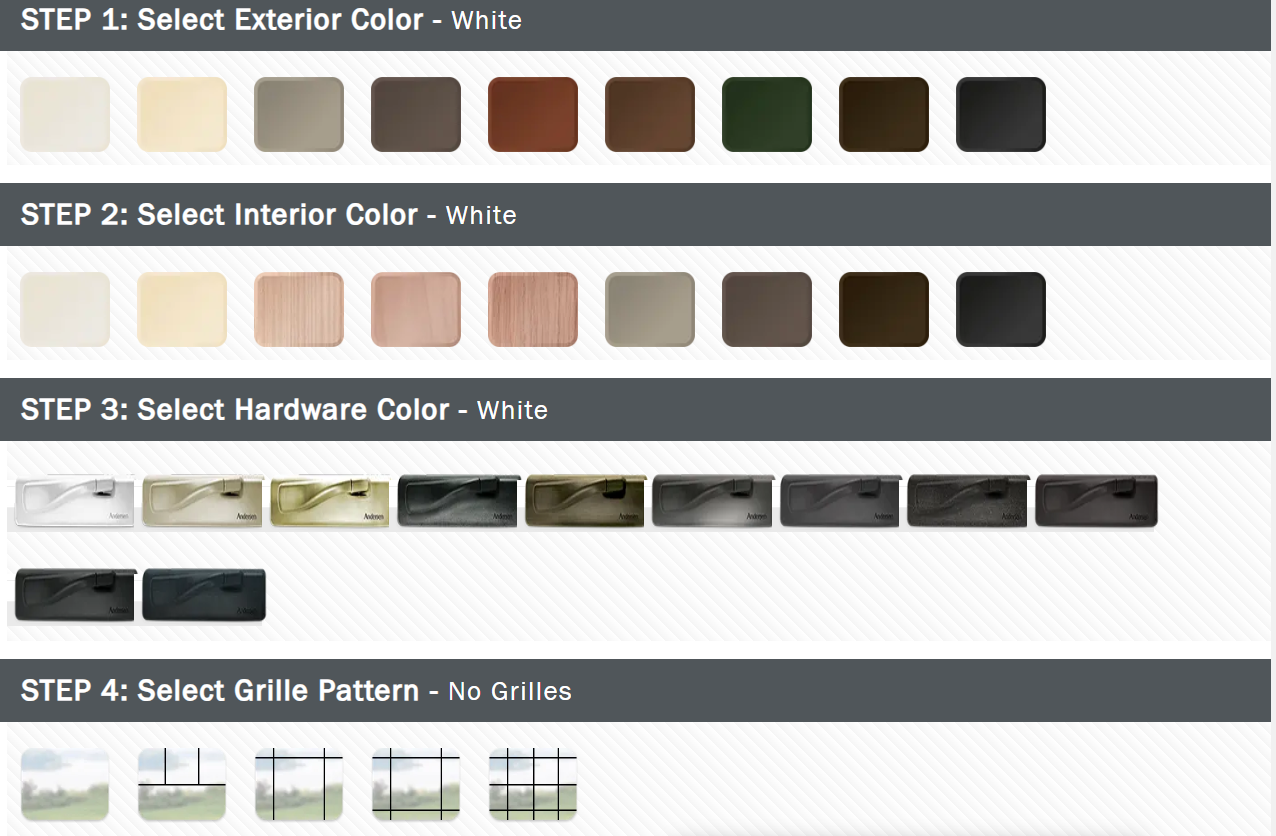 Choosing the Right Window Style for Your Home
Replacement windows should harmonize with the overall aesthetic of your home to enhance its architectural integrity and curb appeal. Each home has a unique architectural style – be it Traditional, Modern, Craftsman, or Colonial. The right replacement windows should respect and enhance this style. For example, in Northern Virginia, numerous colonial homes can be found. By simply modifying the window grille pattern from Colonial to Prairie or Craftsman, we have successfully transformed the appearance of a home. Additionally, replacing the front door contributes to the overall transformation, resulting in a completely rejuvenated home.
Homeowners should view windows not only as aesthetic elements of their home but also as functional necessities.
Window Function
The function of windows extends beyond allowing light into the home. They play a crucial role in ventilation, helping maintain air quality and temperature in the house. Windows can also provide an additional layer of security, with certain styles and materials being more resistant to break-ins. Sound insulation is another function to consider, particularly for homes in noisy areas. Therefore, when choosing windows, homeowners should think about their specific needs and circumstances, such as the local climate, their home's insulation needs, security concerns, and the amount of ambient noise.
In conclusion, selecting the right windows is an investment that can dramatically enhance the comfort, beauty, and value of your home. So, whether you're considering remodeling or simply enhancing the curb appeal of your home by replacing old windows, remember that window aesthetics can significantly impact your home's character and ambiance. Let Northwood Construction help.