Are you thinking about a bathroom remodel? If so, it's important to understand how to determine bathroom remodeling costs. Many homeowners underestimate the amount of work involved in remodeling a bathroom and are surprised by the quotes they receive from a professional. In this blog post, we'll take a closer look at the real cost of remodeling a bathroom, including the factors that affect remodeling costs so you can keep your budget under control.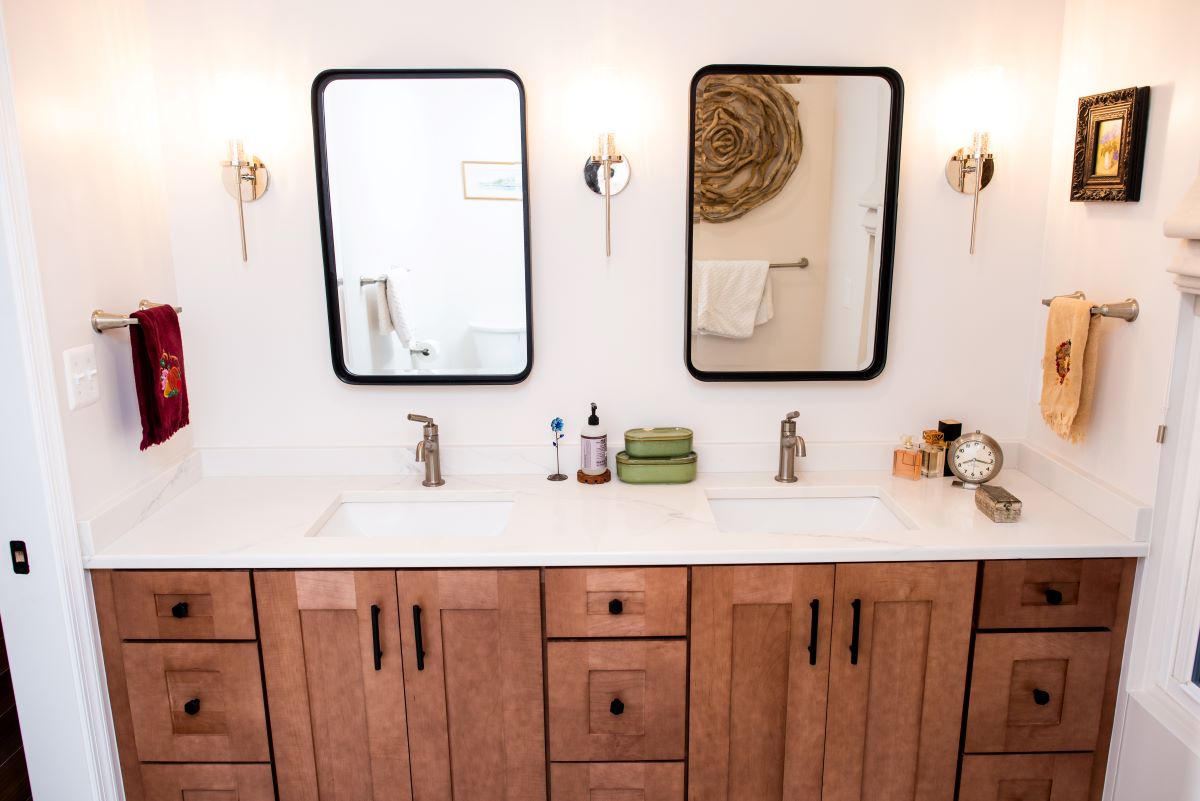 8 Factors That Determine Bathroom Remodeling Costs
Labor cost to remodel bathroom. Even though some bathrooms may be small in square feet, nearly every tradesperson is engaged in a bathroom remodeling project. A bathroom renovation includes:
Demolition
Carpentry
Plumbing and Electrical
Drywall
Countertop and Cabinetry
Flooring
Tile
Painting
Bathroom Size. Do you have a small bathroom, powder room or large master bathroom to renovate? Bathrooms come in a variety of shapes and sizes. While powder rooms are typically smaller, they still involve all trades. And we've seen master bathrooms that are 5′ x 7′ and others that are 25′ x 25′. So size is a huge factor that goes into the cost.
The difficulty of demolition. Some older bathrooms have mud-set floors, shower floors and walls. These are incredibly time-consuming to demolish. In addition to being a challenge to demolish, the components are also heavy. As such, this task requires more time (i.e., labor cost) to haul out of your house.
Reconfiguration. Often through the design process, we determine that it makes sense to reconfigure the floor plan of your bathroom. When you remodel a bathroom that reconfigures the layout, relocating the plumbing can be costly. There is extra demolition, relocation of drains, hot and cold water and more. This may also affect adjacent spaces, which will increase the cost of remodeling.
The number of fixtures. A bathroom with a single sink, toilet and shower has three fixtures, while a bathroom with double vanity, a bathtub, a shower and a toilet has five fixtures to replace. It only makes sense that your bathroom remodeling costs will increase with the more fixtures that need replacing.
The selection of new fixtures, materials and lighting. Much of your bathroom remodeling cost depends on the type of fixtures you select. You will need to choose a tub, toilet, sink and shower fixtures, countertops, cabinetry and bathroom floor materials, paint, mirrors and lighting, and more. All items will factor into your budget.
Additionally, the configuration of fixtures can be simple or complicated. For example, it can take nearly a day to plumb for a single shower with a shower valve, diverter, hand-held spray, several body sprays and shower drain.
Tile cost. Tile can make or break a bathroom remodeling budget. Tile can be super simple or highly complex. The good news is that as the homeowner, you can save money depending on the type of tile you select and how it is installed. When a bathroom renovation calls for any of the following, it will drive up the cost: accent strips, glass tile, natural stone/marble tiles, alternating patterns, difficult to align mosaics or complex design layout. Alternatively, you can select a midrange-priced tile and still achieve a lovely look without allowing your material costs to break your budget.
Complex redesign. Often your bathroom remodeling project includes relocating walls, bumping into an adjacent space, updating the master closet or adding/relocating windows. If so, your bathroom remodel costs will significantly increase. Keep in mind that once design includes construction activity outside the confines of the master bathroom, the homeowner has entered into what we call "The World of Remodeling Creep." It's a wonderful and charming world to enter because it means you're rolling other remodeling projects into your bathroom renovation. However, it also means that additional rooms will need materials and labor for everything from drywall work and painting to replacing flooring, relocating electricity and more.
Knowing the Complete Picture of the Cost to Remodel A Bathroom
When you see the complete picture of all the factors determining the cost of remodeling a bathroom, it makes it much easier to know what you should expect to pay.
Editor's Note: This post was originally published in September 2013 and has been updated for accuracy.