Our guide, Remodeling Costs in Northern VA, has been updated for 2022 and is now available on our website as a free download. This is the 8th Edition of this guide, and we have been publishing this guide since 2014 as a remodeling resource for those living in Northern Virginia.
We have updated the current guide to reflect the costs for different types of home remodeling projects as reported by Remodeling in their Cost Vs. Value Report for 2022. Remodeling (the magazine) further segments its research to account for geographic cost differences. We fall into the Washington, DC, area.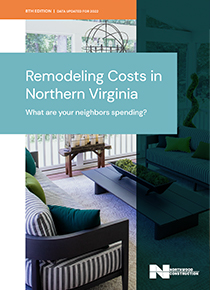 Remodeling has created basic product/project parameters for their Cost vs. Value Report. We find that people in our area (Northern Virginia) tend to have a different view of what is "standard" and what is not. For example, Remodeling uses laminate countertops in their kitchen remodeling assumption, yet the people who contact us for a kitchen remodel want granite, engineered stone countertops or anything BUT laminate. So, what we have tried to do is create a cost guide that reflects what people really desire and view as "standard" for our area – Northern Virginia – Arlington, Fairfax, Loudoun, Prince William and Fauquier counties.
Please download the guide or pass it on to someone who wants to learn more about remodeling costs without committing to a meeting. And if you are ready to discuss your remodeling project, we're happy to talk.